Dual citizens and foreign funded locals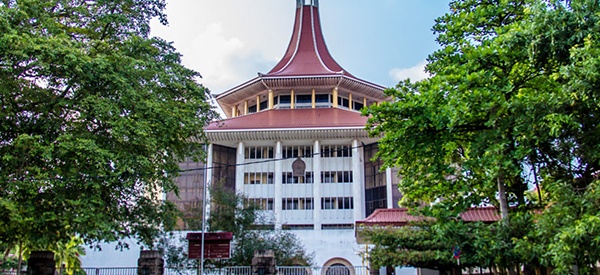 by C.A.Chandraprema
The 20th Amendment has given rise to a debate over whether dual citizens should be allowed to contest elections in this country. The dual citizenship law has been operational for decades and nobody had any issue with it until the yahapalana camp seized on it as a means of keeping the Rajapaksa brothers Gotabhaya and Basil out of politics. The yahapalana camp includes the majority of the foreign funded NGOs that have no purpose other than to interfere in, and influence the politics of Sri Lanka in order to push the agendas of their foreign paymasters. It would appear that individuals belonging to at least some of these foreign funded NGOs have made representations to the Supreme Court against allowing dual citizens to contest elections in this country. That raises a very cogent question.
If dual citizens are to be banned from contesting elections and indeed as some have suggested even holding other government positions because of their ties to foreign nations, then it follows that similar restrictions should be extended to all individuals and organizations that receive funding from foreign governments and organizations to carry out political work in Sri Lanka. If the oath that a person takes in obtaining citizenship in a foreign country is seen as a danger to Sri Lanka, how much more dangerous is the phenomenon of having persons who are paid to do the bidding of various foreign parties within Sri Lanka? For decades, Sri Lanka has had no protection at all from outside parties that seek to influence events here by hiring people to manipulate public opinion and engage in similar activities. As a result of these NGOs, Sri Lanka has few genuine voluntary organizations. The very phrase 'civil society' has been hijacked by foreign funded NGOs.
In contrast to Sri Lanka, India has always had adequate protection from the phenomenon of foreign funded political activism in the form of the Foreign Contributions Regulatory Act which was first promulgated in 1976 during the Indira Gandhi era and then revised and updated during the last Congress government in 2010. Indian political elites have always been more conscious of the need to protect their country from this kind of insidious foreign influence than their Sri Lankan counterparts. The re-drafting of India's Foreign Contributions Regulatory Act took place during the last Congress government by a Parliamentary committee headed by opposition law-maker Sushma Swaraj. Now that a debate on the advisability of having anyone with a foreign linkage however tenuous from engaging in politics has been initiated, it should be extended to people paid by foreign parties to engage in political activities in Sri Lanka.
India's emulation-worthy legislation
For well over a decade, this writer has been advocating the adoption of an Indian Foreign Contributions Regulatory Act-style law in Sri Lanka. The preamble to the Indian Foreign Contribution (Regulation) Act, 2010, (FCRA) describes it as a law to regulate the acceptance and utilization of foreign contributions or foreign hospitality by certain individuals or associations or companies and to prohibit such acceptance and utilization for any activities detrimental to the national interest. This is exactly what Sri Lanka is in dire need of. It's not just foreign money that comes under the purview of the Indian FCRA but even foreign junkets, training programmes and scholarships offered by interested parties to selected individuals with a view to influencing them.
The Indian FCRA extends not only to all inhabitants of India, but also to citizens of India outside India and to branches or subsidiaries, outside India, of companies or bodies corporate, registered or incorporated in India. Money earned by Indian citizens from foreign sources by way of salary, wages or other remuneration in the ordinary course of business transacted in or outside India or by way of proceeds of international trade or commerce does not come under the FCRA. India has a large workforce employed outside her borders and a vibrant external trade and the provisions of the FCRA do not interfere in any way with such matters. Stipends received from legitimate foreign scholarships also do not come under the FCRA. However, everything else including even gifts received by members of Indian delegations on overseas visits do come under the FCRA.
Trying to circumvent the FCRA by transferring funds from one entity to another will also not work under the Indian law, because a donation or transfer of any funds by any person who has received it from a foreign source is also deemed to be a foreign contribution. Even interest accrued on a foreign contribution deposited in any bank is deemed to be a foreign contribution. Foreign hospitality which means any facility provided in cash or kind by a foreign source to provide a person with the cost of travel to any foreign country with free board, lodging, transport or medical treatment, also comes under the FCRA. The source of foreign funding or foreign hospitality can be the government of any foreign country or an agency of such government, a foreign company, citizens of a foreign country, companies, corporations, trusts, societies or associations registered in a foreign country, foreign trade unions, or any international agency. However the United Nations and its specialized agencies, and certain other institutions approved by the Central government of India such as the World Bank and the International Monetary Fund are exempt from the application of the FCRA.
Persons who should not receive foreign funding
In India, the persons prohibited from receiving foreign contributions are candidates for election, correspondents, columnists, cartoonists, editors, owners, printers or publishers of a registered newspaper, and holders of equivalent positions in any electronic or internet based media engaged in the production or broadcast of audio news or audio visual news or current affairs. Judges, government servants or employees of any corporation or any other body controlled or owned by the government, the members of all legislatures (which means the members of every elected body from the Parliament right down to the Panchayats) any political party or office-bearers thereof and any organization of a political nature as may be specified by the Central Government are also prohibited from receiving foreign funding and hospitality.
When you look at this list of persons barred from receiving foreign funding in the Indian law and think of what has been happening in Sri Lanka for decades, you realize that it's nothing short of a miracle that this country is still in existence. Even as these words were being written, The Island reported that several Sri Lankan NGOs including the People's Action for Free & Fair Elections (PAFFREL), the Centre for Monitoring Election Violence (CMEV), the (hitherto unheard of) Center for Investigative Reporting Sri Lanka (CIR) and the Sri Lanka Press Institute (SLPI) had received funding from Canada. In India, that would not have been possible. In 2010 and in the run up to the 2015 presidential election, close relatives of the yahapalana presidential candidates of those years were caught red handed while in possession of large amounts of foreign currency and we still have done nothing about banning candidates at elections and political parties from receiving funds from foreign interested parties.
In contrast, under the Indian FCRA, No person, resident in India, and no citizen of India resident outside India, shall accept any foreign contribution, or acquire or agree to acquire any currency from a foreign source, on behalf of any political party. No person, resident in India, shall deliver any currency, whether Indian or foreign, which has been accepted from any foreign source, to any person if he knows or has reasonable cause to believe that such other person intends, or is likely, to deliver such currency to any political party or any person referred to in the list mentioned above.
The Indian Central Government may, having regard to the activities of the organization or the ideology propagated by it or its program or association with the activities of any political party, name such organization as one of a political nature. Such naming will be done by the Central Government on the basis of guidelines formulated by the Central Government itself.
Restrictions on the acceptance of foreign hospitality in the form of junkets by certain categories of people is also a main part of the Indian FCRA. No member of a legislature (which means any elected body from the Parliament down to the Panchayats) or office-bearer of a political party or Judge or Government servant or employee of any corporation or any other body owned or controlled by the Government shall, while visiting any country or territory outside India, accept, except with the prior permission of the Central Government, any foreign hospitality. Even if such a person falls ill during a visit overseas, and receives emergency medical treatment, that's categorized as foreign hospitality and it has to be reported to the authorities within one month from the date of receipt of such hospitality giving the source from which, and the manner in which, such hospitality was received.
Those who are registered and granted a certificate to receive any foreign contributions, are prohibited from transferring such foreign contribution to any other person unless that other person is also registered and had been granted the certificate or obtained prior permission to receive foreign contributions. Such transfers can take place only on the basis of the prior approval of the Central Government.
Conditions attached
Under the Indian FCRA, every person who has been granted a certificate or given prior permission to receive foreign funds can receive such funds only through a single bank account. There are a number of rules which have to adhered to in spending this money as well. Firstly, it can be used only for the purposes for which the contribution has been received. Not more than 50% of the money received can be spent on administrative expenses. In deciding whether any person or entity should be granted permission to receive foreign funds or foreign hospitality, the Indian central government will have to satisfy itself to the effect that allowing such foreign funding or foreign hospitality would not be prejudicial to the sovereignty and integrity of India; the public interest; the freedom or fairness of election to any legislature, or harmony between religious, racial, social, linguistic or regional groups, castes or communities.
The FRCA states very specifically that no person having a definite cultural, economic, educational, religious or social program shall accept foreign funding unless such person obtains a certificate of registration from the Central Government. Another point to note in the Indian FRCA is that the implementing authority is always the Indian central government with the states having no role in it. If the government has reasonable cause to believe that any provision of the FRCA is being, contravened, the Central Government may appoint an officer to audit any books kept by the persons or entities concerned. Such officer shall have the right to enter any premises for the purpose of carrying out his duties.
Every candidate for election, who had received any foreign contribution, at any time within one hundred and eighty days immediately preceding the date on which he is duly nominated, shall give, within such time and in such manner as may be prescribed, an intimation to the Central Government as to the amount of foreign contribution received by him, the source from which, and the manner in which, such foreign contribution was received and the purposes for which and the manner in which such foreign contribution was utilized by him. Whoever accepts, or assists any person, political party or organization in accepting, any contribution from a foreign source, in contravention of any provision of this Act shall be punished with imprisonment for a term which may extend to five years, or a fine, or both.
The Foreign Contributions Regulatory Act has obviously served India well over the past four decades and more which is why the 1976 Act was revised and renewed in 2010. The politics of Sri Lanka would have been very different if such a law had been in operation in Sri Lanka as well. The year 2015 was the year that the foreign funded NGO sector virtually took over Sri Lanka with many such individuals obtaining appointments as members of the numerous commissions that were set up. The lesson that our past experiences teach us is that if India needed an FRCA, we need it even more.
---
JVP Select Committee member alleges Indian hand in Easter Sunday blasts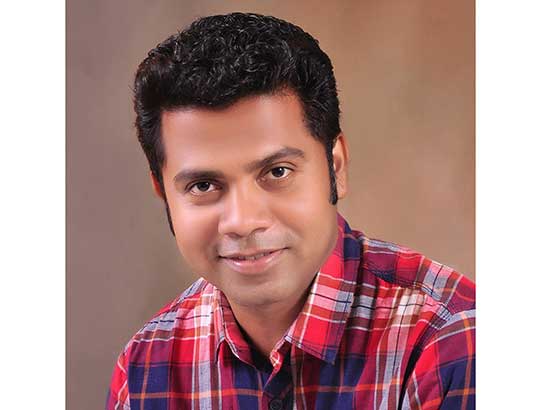 Party leaders in parliament have asked the government several times to table it in the House but the government has not yet done so. We heard the media spokesperson of the Attorney General stating on TV that the Attorney General too has not yet received the report. Colombo Archbishop Malcolm Cardinal Ranjith says that he too has not received a copy yet. The President is keeping the most important commission report of his life to himself. We believe that people have the right to know what's in it and it should be released. There is a yet-to-be-identified force behind the Easter attacks.
by Saman Indrajith
JVP Central Committee and Politburo member and former Kalutara District MP, Dr Nalinda Jayatissa, says that it was India's Research and Analysis Wing who masterminded the Easter Sunday terror attacks and there was no substantial evidence to prove any ISIS link to the Zahran Hashim's group that carried out the attack.
The final report of the Presidential Commission of Inquiry (PCoI) into the Easter Sunday attacks should clear this situation. If not, the government cannot escape the blame of a cover-up, Dr Jayatissa said in an interview with The Sunday Island.
Excerpts:
Q: The final report of the Presidential Commission of Inquiry (PCoI) into the Easter Sunday attacks was handed over to President Gotabaya Rajapaksa. While the government keeps on saying that it would be released, the opposition keeps on demanding to see it. You were a member of the Parliamentary Select Committee (PSC) that investigated the issue. The PCoI took a longer time than PSC to complete the investigation. Do you think that PCoI report may at least identify those truly responsible for the heinous crime that killed 268 and wounded more than 500?
A:
The report yet to be released is that of the most important PCoI that President Gotabaya Rajapaksa had appointed. It is the most important because the Easter Sunday carnage was the event that brought him to politics. He was not looking to come into active politics before that. That incident helped them to come to power. They came to power promising to probe the Easter Sunday terror attacks and punish those responsible. There had been lot of difficulties and limits to the PSC probe. Those now in the SLPP were then in the United Opposition and they boycotted the PSC. They created many obstructions. They even shouted that we should not summon intelligence and military officers saying that our action would result in exposing those officers' identities and put them in danger.
But the PCoI did not have such limits. They summoned more officers of both intelligence agencies and security establishments and some of them later gave TV interviews too. However, in our investigation we identified who had failed to prevent the terror attack and why and how such extremist groups came into existence in this country. We think that a PCoI should do better than a PSC because all intelligence officers, CID and Terrorist Investigation Division officers, came before the PCoI and testified. We hope that the PCoI report will expose who was actually behind the terror attacks other than Zahran and his colleagues who exploded themselves. Otherwise the report will not have anything new.
This report would be different and unique only if it exposes who were really behind Zahran's group. The PCoI report was handed over to President Rajapaksa on Feb 1. Thereafter three cabinet meetings have been held but yet the report has not been placed before the Cabinet. We do not accept the excuse that it's too large a report to be submitted to the Cabinet. That's a lame excuse.
Party leaders in parliament have asked the government several times to table it in the House but the government has not yet done so. We heard the media spokesperson of the Attorney General stating on TV that the Attorney General too has not yet received the report. Colombo Archbishop Malcolm Cardinal Ranjith says that he too has not received a copy yet. The president is keeping the most important commission report of his life to himself. We believe that people have the right to know what's in it and it should be released. There is a yet-to-be-identified force behind the Easter attacks.
We heard former CID Senior DIG Ravi Seneviratne saying in his testimony that there must be someone above Zahran Hashim who masterminded the attack. SSP Shani Abeysekera was the Director CID at the time of the Easter Sunday attack and was also the first officer tasked with conducting the investigations. He has said that Zahran was not the mastermind because the leader of a terrorist group has never been a suicide bomber blasting himself in any terrorist attack anywhere in the world. So the President is bound by the responsibility of revealing the true mastermind in this incident.
Q: Investigators are of the opinion that the Easter Sunday attacks had the support of a foreign force. Do you also think so?
A:
I saw on TV last week MP Dilan Perera, who is a senior of the SLFP and a former minister, stating that there was direct or indirect involvement of India behind the Easter Sunday attacks. I consider it a serious statement. If a government MP says that India was behind the attacks, then there should be some basis for his statement. Apart from that, there is other information promoting the same suspicion being discussed in society. There are reasons for that. It was Indian intelligence who provided the first piece of comprehensive information about the attack weeks prior to that incident. Their information said that the Indian High Commission in Colombo was also one of the targets.
Yet it was revealed at the PSC that the Indian High Commission never asked for additional security despite the threat. It was also revealed at the PSC that no additional security has been accorded to the Indian Defense Secretary who had suddenly visited Sri Lanka for a one-day visit on April 08, 2019. Those who were involved in this attack had not been to Middle Eastern or other countries where ISIS had a presence. They had only been to India. In addition, Zahran's group did not have an armoury. There was a stock of weapons that was found at Wanathavillu. A detonator with the least capacity had been used for the test explosion of a motorcycle at Kattankudy four days before the Easter Sunday attacks.
It was a weapon that had been taken away in Oct, 2018 from Vavunathivu that was later used to shoot at Kabir Hashim's secretary at Kegalle in March 2019, five months later. That shows that the Zahran's group did not have explosives or firearms in large quantity as it is in the case of a terror group. Even after the terror attacks, the CID or any other security agency has not been able to find any armoury belonging to them until now. Even in the PCoI facts had been revealed about the hotel rooms and banquet halls that had been hired by the Zahran's group but no revelations about any weapons or explosives. So a group which possesses very little fire power carries out terrorist attacks exploding eight very powerful bombs resulting in such a loss. Then there should be another force behind them to supply what was used. In the subsequent Sainthamaruthu attack, 16 persons were killed. Pualsthini Rajendran alias Sarah Jasmine, who survived that attack, fled to India by a boat from Mannar. However, we have not yet seen the Sri Lankan government asking from India to extradite her despite the fact that she has lot of important information.
Indian National Security Advisor Ajith Doval visited this country and then its foreign minister Jaishankar visited Sri Lanka but not on any of those occasions had our government asked India to hand over Sarah to our investigators. President Rajapaksa soon after his election visited India. Prime Minister Mahinda Rajapaksa conducted many zoom and video call conferences with his Indian counterpart Modi. We can also see the Indian High Commissioner in Colombo playing a very influential political role. But we have not seen the Lankan government asking India to hand over Sarah to our investigators. Not even the PCoI asked for her.
As we know, Zahran's wife had told the PCoI that Sarah knew more about the dealings of the Zahran group than she because Sarah was the wife of the suicide bomber who had attacked the St. Sebastian's Church in Katuwapitiya. When this question was posed to Public Security Minister Sarath Weerasekera recently, he replied that before asking for the extradition, we must make sure that Sarah was still alive and DNA testing on Sarah was still being done. That is not true because giving evidence before the PCoI on July 21, 2020 the then Ampara SSP Samantha Wijesekera testified that they conducted DNA tests on those who had been killed at Sainthamaruthu but Sarah was not among the dead.
Sarah's mother giving evidence before PCoI stated on July 25, 2020 that Sarah did not die but fled. There is no need to conduct DNA or delay. The Public Security Minister's position is only a part of a campaign to cover up for Sarah who knows India's involvement. It is further established when former Minister Dilan Perera clearly stated that India was behind the Easter Sunday attacks.
Q: None who attended the PSC mentioned any Indian involvement. Testimony of some of those who gave evidence before the PSC was taken in camera. Has anyone testified before the PSC of any Indian involvement?
A:
No. It is Dilan Perera's recent statement on TV that said so clearly in public. But anyone can guess that an Islamic outfit of the size and capabilities of Zahran's group alone cannot organize a series of terror attacks of this nature. They had the backing of a force which had access to high powered explosives, intelligence and technology. It is up to the President or the PCoI to reveal the real perpetrators. If the upcoming report too says that there were security lapses because of the rivalry between Ranil Wickremesinghe and Maithriapala Sirisena, and that Hemasiri Fernando and Pujith Jayasundera could not prevent the attacks even with information in their hands, then it is clear that the government wants to protect the real culprits of this crime.
Q: Suppose that theory of Indian connection is true. Then how could it be viewed against what we are seeing today in politics where Indian involvements in the Colombo port and many other places in the country have raised many concerns?
A:
Actually this incident has more political repercussions than military or security issues. From 2008 to 2015 China established its presence in the Indian Ocean. It acquired Port City, CICT terminal, six acres of land next to the Colombo Harbour and involved itself in development projects. China included Sri Lanka in its One Belt One Road program. This raised concerns of not only India but also of the US. They wanted to send Mahinda Rajapaksa home and did so. Mahinda Rajapaksa himself told Port unionists that it was India that sent him home in 2015. However, his successor Wickremesinghe-Sirisena government too did not deliver the expected results. That was why India got its intelligence to mastermind the Easter Sunday attacks.
A march, a tweet, some angst and mild sabre-rattling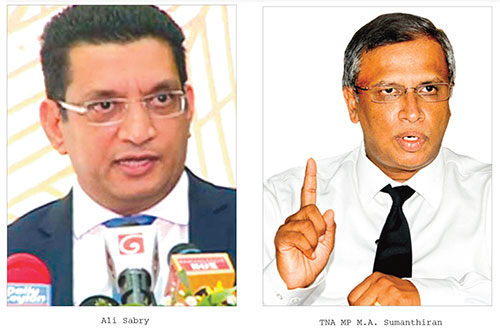 by Malinda Seneviratne
If something deserves to be called 'Event of the Week' it would be the 'Pothuvil to Poligandy (P2P) March' which ended on Sunday, February 7. At the end of the march there were around 2,000 people. Most significantly, it was an event that saw the participation of both Tamils and Muslims. The basic differences in grievances were obviously negated by a felt need to be united against, let's say, a perceived common enemy, the Government to some, 'Sinhala Chauvinism' to others.
It marked also, as D B S Jeyaraj has mentioned in his weekly column, a return of sorts to non-violent protests. Now it is not that all Tamil and Political action was violent. There have been all kinds of non-violent protests even during the conflict. However, this was a sustained, determined and even colorful affirmation of a politics that harked back to a different time. 'The Satyagraha of 1961,' is what Jeyaraj was reminded of. There are two interesting statements that are related to this march. First we had the government withdrawing STF security assigned to TNA MP M.A. Sumanthiran. Sumanthiran retorted, 'if something happens to me the Government will be held responsible.' Now the agitation of the man does seem misplaced considering that he was involved in a five-day march (ok, he may not have be 'on the moving spot' all five days, but still! Was he not worried about security? Also, Sumanthiran has openly supported the LTTE, indulged heavily in Eelam-speak as well as celebration of the terrorists. He would do well to reflect on the fate of others who came before who did the very same thing, especially the leader of the TULF, Appapillai Amirthalingam. Amirthalingam spouted rhetoric which was like an endless nutritional feed to extremism. The beast, in his insatiable hunger, at one point did much more than bite the hand that fed it. One hopes that things don't snowball to a repeat of all that, but Sumanthiran, having seen what happens to hands thrust into fires ought to keep his in his pockets. Nevertheless, withdrawing security granted on a threat perception is an overreaction.The second is a hilarious tweet from the tweet-happiest diplomat in Colombo, Alaina B Teplitz: '#Peacefulprotests is an important right in any #democracy and significant, legitimate concerns should be heard. I saw Tamil media coverage of the march from Pottuvil to Point Pedro and wondered why it was not more widely covered by Colombo-based media?'She has a point. The English, Sinhala and Tamil media have different preferences that have little to do with newsworthiness. Perhaps it is all about the target audience; after all there's a reason why entertainment value has framed reporting and presentation, why sensationalism has become an important driver and so on. This holds for different media houses as well; owners have agendas. Nevertheless, there is a serious problem if matters of political significance are down-played or ignored altogether, one has to question the sense of responsibility of the particular media institutions.On the other hand, we cannot ignore the 'Season of Vexatious Persecution' (i.e. the annual human rights circus in Geneva) which is all about whipping things up from December to February. Now it could be a coincidence that P2P was organized at this particular moment, but few will buy it considering the personalities involved and their political history. The Teplitz tweet only serves to add credence to the view that this was just another side show of the above mentioned circus. The tweet also indicates an important fact: Teplitz is running out of slogans. Before we get to that, let's have a say on the key words — the hash tagged 'peaceful protests,' 'democracy' and 'legitimate concerns.' It is downright laughable for a US diplomat to talk about such things given that country's absolute rubbishing of such things, domestically and internationally. That aside, there's the fact that Teplitz has been pained to the point that she has to whine about media coverage. Is it that a pet project directly or indirectly sponsored, planned and executed, didn't move as many Tamils and Muslims as was envisaged? We didn't hear Muslim and Tamil leaders complaining about news coverage. Have they deferred that kind of task to Teplitz? If that's the case, who is the pawn or who are the pawns here? Is it Teplitz? Are they Tamil and Muslim leaders who in their wisdom believe that the best bet to get grievances, real or imagined, sorted and aspirations, reasonable or outrageous, fulfilled is to support the US in securing strategic objectives in Sri Lanka? If such happens (not a certainty, certainly) do they believe they'll get some crumbs off the table? And what does all this have to say about the agency of Tamil and Muslim citizens? Are they too pawns? Indeed, are all peoples of all communities pawns in games where they are sacrificed at will? Jeyaraj sees in P2P 'a remarkable show of solidarity and unity' between the Tamil and Muslim communities. He does exaggerate about the numbers (tens of thousands, he says) and deliberately introduces the 'Tamil-speaking' qualifier which Tamil nationalists have often used to rope in rhetorically 'The Muslims' to their various political projects. Jeyaraj remembers 1961 but has forgotten the late eighties when M H M Ashraff (in)famously stated that even if Prabhakaran abandons Eelam, he would not. He dialed down the rhetoric over the next decade, but what did Prabhakaran do to the (Tamil-speaking) Muslims, has Jeyaraj forgotten? The LTTE ethnically cleansed the Jaffna Peninsula of Muslims. The LTTE turned one in ten Muslims into refugees, slaughtering dozens, driving them off their homes, seizing properties etc. Muslim leaders cannot pretend to be unaware of that history. Muslim Affairs, if you will, featured in other ways over the week. Recently returned to Parliament, Ven Athureliye Rathana Thero presented a private member's bill to repeal the Muslim Marriage and Divorce Act. Justice Minister Ali Sabry who prior to entering Parliament championed the notion 'One Country, One Law,' responded by saying 'steps are being taken to amend the Muslim Laws and that a Cabinet Paper had already been presented in that regard.'Elaborating, Sabry said that the Cabinet Paper sought to amend the minimum marriageable age of Muslim girls to 18, to permit women to act as Kathis and also to make it necessary to get the consent of Muslim women when they get married.That's it? That makes it 'One Country, One Law'? Sabry must do a serious rethink on what he says and does and the meaning of the terms he uses (so loosely!).
He is correct when he says that 'if the personal laws were to be abolished, all the personal laws such as Muslim Laws, Kandyan law and Thesawalamai Law should be abolished altogether.' 'Through a social discussion,' he adds. There's been enough social discussion, he knows this. One-country-one-law would certainly call for abolishing all customary laws. His concern seems to be limited to correcting existing laws that privilege Muslim men over Muslim women. That's not even scratching the surface of the problem though!
Here are a question for Sabry: Are there plans to abolish polygamy (can't have it for some and not others, no?)? Here's another: The Special Parliamentary Committee on Extremism appointed by the previous administration presented a report in February 2020 recommending extensive measures with respect to Muslim laws as well as 'educational' institutions — have you read it? Are you in agreement? If so, what have you done so far? Are you planning to defer everything to the experts tasked to draft a new constitution? What are those experts doing by the way? When will we see a draft? And finally, what exactly do you understand by 'One country, one law'? Let's have some answers, please.
This week also saw Wimal Weerawansa making some news. He openly advocated a prominent and even principal role for Gotabaya Rajapaksa in the SLPP leadership. He was taken on by the General Secretary of the SLPP, Sagara Kariyawasam who questioned Wimal's rights to talk of the SLPP since he's not a member. Wimal retorted that people in the SLPP talk of other parties. Sagara wondered what Wimal's fate would be had he and his party contested independently. Wimal pointed out that Sagara, a national list MP, hadn't even contested.
Light banter at best. Some sections of the Opposition have salivated, naturally. They believe and talk of 'a rift!' in the Rajapaksa camp, friction between the brothers (Wimal's antipathies to Basil being well known).Too early to conclude such of course, but as debating points go, both Wimal and Sagara have scored. What this 'scoring' says about the future of the SLPP is of course left to be seen. There's bound to be differences of opinion in any political coalition. If everyone was on the same page there wouldn't be a coalition in the first place. You win some, you lose some — this is something that junior or weaker partners know very well (ask Prof Tissa Vitarana of the LSSP).
The so-called 'smaller parties' did make a lot of noise regarding the East Container Terminal issue. It seems, as of now, that the 'big party' listened. Whether they'll still have the 'big ear' regarding the West Container Terminal is left to be seen. On the other hand, we know the story about the dog and the tail, no offense to canines or tails.
Politicians and political parties are about power and about elections. If, for example, Champika Ranawaka and the Jathika Hela Urumaya, having broken ranks with the UPFA decided to go it alone and not join the UNP-led coalition as they did, where would Ranawaka be today, one might ask. Indeed is it not such questions that persuaded him to resign from the JHU and become a 100% SJBer, one could also ask. There are no elections in sight, but when they do come around, all parties big and small will revisit 'coalition' and calculate the impact of decisions (and rhetoric) on electability.
For now, though, noises can and will be made. The likes of Wimal would have to pick their battles and select decibel levels. That said, his point about the distance between president and parliament on account of political sway within the party is valid. It goes without saying that the effectiveness of a program sometimes comes down to parliamentary weight which of course can be deployed best if the executive has a degree of control. The President either doesn't have it or cannot count on it or imagines he doesn't need it. He could ask his brothers, both veterans in this respect. That however might mean give-and-take, if we were to believe the notion that the brothers are bound by blood but not about vision.
India, meanwhile, is not happy, going by statements issued regarding the East Container Terminal. India cannot be happy about the 'Chinese Footprint' whose size was considerably expanded by the previous government by virtually handing over the Hambantota Port to China. India cannot be happy about energy projects given to the Chinese. India cannot be happy about the scheduled visit by Pakistan Prime Minister Imran Khan and MoUs that are said to be signed and/or renewed.
India speaks of Sri Lanka 'reneging' on an MoU. However, India forgets that MoUs are not exactly agreements, signed after crossing the t's and dotting the i's. They are by definition non-binding and amenable to change. Circumstances can change and changing circumstances have to be taken into account.
If an agreement causes political instability it would be foolish for a government to go ahead with it. If, prior to inking an agreement, one party (India in this case) stands with a country that seems hell bent on bullying Sri Lanka (the USA in this case), then it would be silly for that party to assume that the counterpart be oblivious to such developments. If one party has in the part 'reneged' (as India has with respect to the Indo-Lanka Accord which from the get-go was a product of shamelessness bullying and moreover was heavily slanted in India's favor), then that party should be careful before using the word.
And on the subject of 'foreign affairs,' we have Dinesh Gunawardena claiming that Sri Lanka is not afraid of the soon to be tabled resolution in Geneva. There are 47 members in the Human Rights Council (HRC). The Minister of Foreign Affairs cannot be saying 'the majority are with us.' The brave words could probably mean 'we expect this, we know the consequences, we know it's the work of nations wallowing in a cesspool of bias, we know that they're hinting at sanctions, we know what the UN itself has found out about the impact of sanctions in other countries, especially Venezuela in recent times, we know there's talk of taking things to the General Assembly and then the Security Council, we know who our friends are and more importantly who our enemies are, and we know what it takes to secure sovereignty to the extent possible.' Dinesh Gunawardena might not elaborate in the above manner. After all, he is required to be 'diplomatic' although he is not averse to calling a spade a spade. 'Geneva' is just over a week from now. A resolution is likely to be tabled. It is likely that it will be passed. Most importantly, it will show us what India's 'neighborhood first' foreign policy is really about.
malindasenevi@gmail.com. www.malindawords.blogspot.com.
Dayan Jayatilleka and the Opposition Reset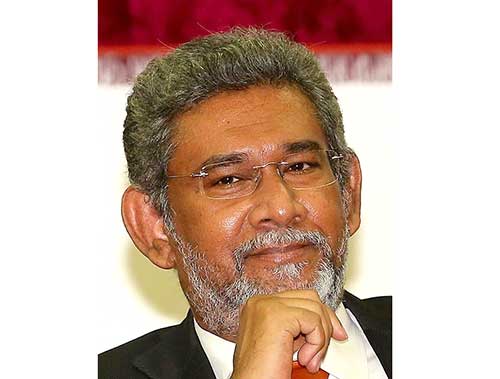 Hobbes and Locke:
When both the Sinhala Alt-Right and neoliberal Right start attacking you, you know you're occupying a centrist moral high ground. Appointing Dr Dayan Jayatilleka as the Samagi Jana Balavegaya's Senior International Relations Advisor – no Junior Advisor as of yet – portends, I think, a world of possibility, for an Opposition bruised and battered by a quarter-century of self-manslaughter. The appointment as it stands doesn't really amount to much, unless you place it in its proper context: what we have is a key theoretician, the only theoretician who can pose a credible enough challenge to what the government is doing. I do not necessarily agree with everything he has said and written over the last few months, but I do agree that the Opposition needs a radical reset. And it's becoming more and more clear that the man best capable of handling the surgery to see that through is Dr Jayatilleka.
The problem with the SJB is that it is acting more and more like a many-headed hydra facing a rapacious but determined behemoth. To match the behemoth, the Opposition must meet it headfirst; it must critique the state's more questionable actions while matching its better ideals. In three areas it should seek to go beyond the UNP's paradigm: domestic economics,
foreign relations, and the constitution. It's no coincidence that Dr Jayatilleka's critique of the government rests on these three areas, and it's no coincidence that it's from those vantage points that his critics – from BOTH the Alt-Right and the neoliberal Right – continue to attack and denigrate him. The first strategy must therefore be to purge the Opposition, not in the old authoritarian sense, but in the sense of removing remnants of what Dr Jayatilleka calls Ranilism: that failed neoliberal, anti-Presidential yahapalanist policy.
The yahapalana neoliberal project failed, but not because Sri Lankans are averse to a liberal polity. It all depends on what kind of liberal policies the yahapalana government was trying to dish out. At the centre of its project was a fatal disjuncture between its populist roots and its avowed policy of "liberalising and globalising" (Mangala Samaraweera, Budget Speech 2017). People voted for a social market economy; what they got was anything but. In other words the yahapalanists failed to reconcile the timeless rift between social liberalism (with its emphasis on state interventionism) and economic liberalism (with its emphasis on the rollback of the state). High on principles, and lofty ones, it floundered. For that reason, we cannot go back to 2015. We should not try to do so.
Given this, how should the SJB craft its policies in those areas? On the domestic economic front, the SJB must abandon, totally and considerably, that earlier policy of liberalising and globalising. It must think of production, since the biggest, most persistent problem facing this country's economy today is its absence of a proper manufacturing base. It cannot hope to achieve this with piecemeal solutions; there must be state intervention, what Dr Dayan calls "a new, New Deal, Rooseveltian-Keynesian." I am no economist, so I can't really detail the specifics of this new New Deal. I do know, however, what it should not be: the old UNP-yahapalanist neoliberal paradigm. The new policy must be progressive, state-led though not state-monopolised, and driven by local manufacture.
Of course, in all fairness to Dr Jayatilleka, I should point out that this may not necessarily be what he has in mind or what he advocates. That is why I disagree with him when he ponders the impracticality of import controls, since local production requires "imported inputs, while a middle-class society in an MDG country, cannot sustain itself without imported consumer goods, including essentials." Far from being a minus point against restrictions, I believe the very fact that we import consumer goods, even for local production, necessitates a cohesive substitution strategy that, while directed by the state, should be phased out.
On the foreign policy front, relations with India must be patched up immediately, while the anti-China lobby must be discouraged. To be fair by the current regime, notwithstanding the anti-Indian comments of certain Ministers it has more or less attempted to stick to its "India First" policy, even attempting the impossible: the lease-out of the East Coast Terminal to an Indian investor in the teeth of opposition from the government's own ranks.
I don't think it feasible or advisable, however, for the regime to have gone to such lengths to prove its India First credentials, and to Dr Dayan's credit he critiques it extensively as well: it will, he observes, antagonise China, forcing it to try leaving behind a bigger footprint on the country. Indian Foreign Minister Jaishankar's interlude with Tony Blinken makes it clear that Indo-US ties will only strengthen across the board against the China Factor under the new administration in Washington. Sri Lanka simply cannot afford to ignore this, but then it must not use geopolitical imperatives to go overboard when dealing with neighbours.
A clear consensus has arisen, especially among the hardliners in the regime and nationalists within the Opposition, that the ECT deal should not have gone ahead. Dr Dayan is agreed on this point, but to what extent is the Opposition in the SJB also agreed to it? We're getting mixed signals from Sajith Premadasa's party. Symbolically enough the tweets and messages congratulating the government vis-à-vis the ECT deal have been, not from any government figure, but from the Opposition. The SJB has mostly tilted between reluctant acquiescence (they were with the UNP when the agreement was drafted, after all) and hysterical rhetoric (Harin Fernando's claim that the Adanis to whom the ECT was leased will take business from Sri Lanka to a port they have developed in Mundra, a claim that was shown to be untrue by N. Sathya Moorthy in a report on the deal). This is not how it should be.
The ECT deal, however, isn't all there is to what course Sri Lanka should take regarding its foreign policy. Another issue is Geneva, the UNHRC bomb. Dr Jayatilleka is adamantly of the belief that inasmuch as the government blundered by withdrawing from Resolution 30/1, it was the yahapalana regime's fault for cosponsoring it in the first place.
This runs counter to elements within the UNP and even SJB that still view Resolution 30/1 as a foreign policy success; Harsha de Silva's lengthy though well detailed speech in parliament two months ago on the question of the government's foreign policy did the rounds in every quarter, but then ended up referring to the March 2015 Geneva session on a positive note. Not so, Dr Jayatilleka warned not too long afterwards: any reform-and-reset program in the Opposition must let go of the belief that Resolution 30/1 was a success, and recognise it for the unmitigated disaster it was.
On the constitution front, the way forward for the Opposition seems clear: it must abandon any rhetoric of getting rid of the Executive Presidency. For Dr Jayatilleka, the problem with the 20th Amendment isn't so much the fact that it restores the Presidency as it is the degree to which it entrenches it. There is a clear difference: the objective of any practical-minded and national Opposition, he implies, must be, not to throw the baby out with the bathwater, but to retain the baby sans the bathwater. Ergo, constitutional reforms must a) not abolish or substantively reduce the powers of the EP, and b) go as far as permissible and practical vis-à-vis devolution of power, within and not beyond the 13th Amendment.
Sri Lanka's political landscape, as it rests, is occupied by Lockean liberals and Hobbesian sovereigntists. The former are high on ideals, low on execution, while the latter are all for execution, not so much for ideals. To take a middle-ground between these two must be the aim of every self-respecting Opposition, and it seems as though Dr Jayatilleka has, despite my reservations with some of his policy recommendations, got it. We need an alternative to both neoliberal think-tanks and ultranationalist-technocratic fora. I believe the SJB has what it takes to go beyond its neoliberal roots, though I fear I'll be proven wrong.
The solutions to Sri Lanka's predicament must come from a left-of-centre, even Marxist, position; I believe in taking the latter course, but I also know what is practical and what is not, at least in Sri Lanka. The SJB does not stand out as a Marxist party, but then nor does the SLPP. Yet it must adroitly escape its neoliberal past, and for that, Dr Jayatilleka's policy recommendations must be, if not unanimously, then at least considerably endorsed by the upper echelons of the party. I mean not just Sajith Premadasa, but also Harsha de Silva, Eran Wickramaratne, Buddhika Pathirana, Rajitha Senaratne, and Ajith Perera.
These ex-UNPers must realise that the old centre-right neoliberal paradigm no longer works. They must realise, in what they say and what they do, that such a paradigm must never be tried or tested out again. If getting the SJB and its officials to undergo this radical reset is all he does, I believe Dr Jayatilleka will have done his part. To reiterate yet again: there must be a purge, so that the SJB doesn't end up as GR Lite or, worse, UNP Lite.
The writer can be reached at udakdev1@gmail.com