Elina wanted Premadasa to succeed JRJ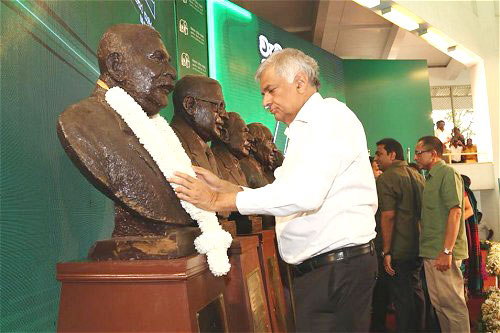 Ranil Wickremesinghe garlanding the DS Senanayake statue, at the UNP's 72 anniversary, two years ago. The UNP celebrated its 74th anniversary over the weekend without a single elected MP in parliament. Over a month after the general election, the party is yet to decide on the single National List nominee, with a section backing Wickremesinghe for that slot.
– new biography
By Shamindra Ferdinando
The late Elina Jayewardene (EJ), nee Rupasinghe, had strongly pushed for Ranasinghe Premadasa as her husband first executive President JRJ's successor in the run up to the second presidential poll, in the late 80s, according to 'Elina Jayewardene', authored by journalist Sagarika Dissanayake.
The then first lady had insisted that Premadasa should get the opportunity as he was the most suitable person to take over the party, following JRJ's retirement. This discussion, on the party leadership, had taken place near the Kalutara temple, while they were on their way to Mirissa. JRJ assured EJ of his decision to accept her proposal, as they got down from the vehicle at Mirissa.
The author attributes the revelation to Pradeep Jayewardene, the eldest grandson of JRJ and Elina. The author dealt briefly with EJ taking a stand on two crucial matters, namely JRJ's decision to sack Rukman Senanayake, and the UNP's next leader. Though JRJ ignored EJ's strong protest against Rukman's sacking, her suggestion, as regards RP, was accepted. EJ had felt Premadasa was the most qualified and she also had opposed any other successor that might reinforce accusations of power being always monopolised by the elite.
Sagarika Dissanayake, who had served the Lake House publication, 'Silumina', before being moved to its daily 'Dinamina', couldn't have launched 'Elina Jayewardene' at a better time as the UNP struggled to cope up with the worst ever defeat the party suffered in its over 70-year history. The 2020 general election reduced the UNP to a solitary National List slot whereas its parliamentary group, in the last parliament, comprised 106 members.
The failure on the part of the UNP to resolve the leadership issue, even over a month after the last general election, is evidence of the deterioration of once the most powerful political force in the country.
Elina chooses JRJ over SWRD
EJ, the only daughter of one of the richest families in Sri Lanka, at that time, lacked a formal education, though she attracted the attention of young lawyer Junius Richard Jayewardene, as well as S.W.R.D. Bandaranaike, subsequently the leaders of the UNP and the SLFP, respectively. S.W.R.D. Bandaranaike had been able to get to know EJ before JRJ. Dissanayake dealt with how S.W.R.D gave up his love for EJ, after seeing her with JRJ, at the former's residence, saying: "My congratulations."
EJ married JRJ on the evening of February 28, 1935 at 'Breamar', Ward Place. Winning EJ's hand hadn't been easy for Junius Richard Jayewardene (Dicky to his friends) as her family was not so excited about the proposal from his mother Agnes Helen Jayewardene, the wife of the late top lawyer E.W. Jayewardene. Agnes Helen Jayewardene was a sister of press baron D.R. Wijewardene, of Lake House fame.
'Elina Jayewardene' is based on interviews with several persons, including Pradeep Jayewardene, Rukshan Amal Jayewardene (the second grandchild JRJ and Elina), Sharmaine Mendis, first wife of late Ravi Jayewardene (their only son), close relatives, Professor Asvini Fernando and Lakshmi Suneetha Subasinghe, Dr. Sathis Jayasinhe and Nalini Mapitigama. In addition to them, the author had interviewed several female aides, who had been with EJ until the very end. Among them were Galahitiyage Lilawathie, Hettiarachchige Magilin and Lilani de Silva. Pradeep Jayewardene's younger brother, Amrik, hadn't been so excited about the brief biography about their late grandmother, hence the author not getting an opportunity to speak with him. The author also quoted from the work of the late senior government servant, Amara Hewamadduma.
The author's failure to interview JRJ and EJ's only son, Ravi Jayewardene, is a shortcoming. "RJ was no more when I started working on this," Sagarika Dissanayake told the writer. RJ passed away on April 3, 2017, at the age of 80.
EJ passed away at a private hospital in Colombo, on Nov 17, 2007, at the age of 95. Her death occurred 11 years after that of JRJ. The author dealt with how EJ's son, RJ, and his second wife, Penny, interfered with the food provided to the ailing EJ, much to the discomfort of other family members, as well as those looking after her. The author, quoted Hettiarachchige Magalin as having said Pradeep Jayewardene argued with his father after the latter ordered that fish or meat should not be given to the ailing lady. The removal of the nurses, assigned to look after EJ, and a number of other issues, were dealt with, though there is no explanation why Ravi Jayewardene and Penny interfered with the staff looking after EJ. Pradeep Jayewardene didn't mince his words as he faulted his father for the rapid deterioration of EJ's health. May be the son didn't want to prolong his mother's vegetative state as she was literally unconscious, even before his father's death, in late 1996.
EJ hadn't been aware of JRJ's passing away, for 11 years, as she never really recovered from her illness and never uttered a word during the last five years of her life. EJ had been with JRJ throughout his volatile political career during which he faced the second bloody JVP inspired insurgency, in the 80s, in the wake of the signing of the Indo-Lanka accord.
JRJ's entry into politics
Having served as a lawyer for seven years, after getting married, in February, 1935, 32-year-old JRJ had entered politics through the Ceylon National Congress (CNC), functioned therein in the capacity of joint Secretary, till 1946. JRJ had served as a lawyer for a period of three years, before his marriage to Elina, after breaking up with two or three early relationships.
His entry into the colonial legislature, the State Council, in 1943, was made possible by his triumph over E.W. Pereira at a by-election for the Kelaniya electorate, following a novel polls campaign where JRJ used relatives and friends to personally visit each and every household in the electorate. JRJ's campaign headquarters had been at 'Manelwatte' property, situated at Bollagala, about three miles away from the Kelaniya temple.
JRJ, however, lost Kelaniya, at the 1956 general election, called by Sir John Kotelawela. Having experienced relentless political turmoil, JRJ led the party to a historic victory, at the 1977 general election, to pave the way for a parliamentary dictatorship that plunged the country into unprecedented crisis. Grandson Pradeep talked lovingly of the period he and his brother spent with their grandparents, between 1956 and 1977, as JRJ struggled as an Opposition member. There was reference to food shortages and the affluent people's practice of buying rationed essential commodities from the poor, at a much higher price, than they bought at the market.
The author pays a glowing tribute to JRJ for quitting active politics, in 1989, at the zenith of his political power. The author discussed how EJ made available her inexhaustible wealth to assist her husband's quest for political power and subsequently lavishly spent on those who sought her help. Perhaps, JRJ couldn't have realized his political ambitions if not for his wife's financial backing as he struggled to cope up with family commitments, in the wake of his father's death, at the age of 58. JRJ had nine siblings. EJ, however, never played an active role in JRJ's political career, whereas Sirimavo Ratwatte, who married S.W.R.D. Bandaranaike, became Sri Lanka's first woman Premier, after the assassination of her husband, in late Sept 1959. She served three terms.
The Jayewardenes had always lived at their private residence, 'Breamar', though they could have chosen to live at the President's House. Incumbent President Gotabaya Rajapaksa, too, chooses not to move into the President's House, or utilize Temple Trees. There had been instances of both the President's House and Temple Trees being used by the same party, contrary to the accepted norms.
However, the author refrained from at least briefly discussing how JRJ caused political calamity by depriving the people of the parliamentary election, scheduled for 1983. Having won a second six-year presidential term, in Oct 1982, JRJ held a sham national referendum, in Dec 1982, to give an opportunity for the people to extend the life of parliament by six more years. JRJ's move was meant to maintain a five- sixth steamroller majority in parliament, the UNP won, in 1977, at the expense of democracy. JRJ introduced the Proportional Representation (PR) system at the 1989 general election. Obviously, the UNP believed no party could secure two-thirds, or at least come close to the magical 150 mark, under the PR system, though both Mahinda Rajapaksa (April 2010) and Gotabaya Rajapaksa (August 2020) proved the UNP wrong. Mahinda Rajapaksa won 144 seats whereas Gotabaya secured 145.
Although the author maintains that EJ always intervened, on behalf of the people, and courageously expressed her views on matters of grave political interest, there is no indication of her stand on JRJ's disastrous decision to put off the general election, scheduled for 1983, by six years. EJ knew of what interested JRJ as she used to read aloud, what she considered, important news items, from the daily newspapers, at the breakfast table.
Children move in to 'Breamar'
Pradeep (1960) had been only 11 years when his mother left him and his younger brothers, Rukshan (1961) and Amrik (1962), following a long standing dispute with his father. Ravi J had been faulted for the break-up of his marriage to Sharmaine nee Vandakoon. They divorced, in 1969, after being separated for a year.
Among the issues discussed, in brief, in "Elina Jayewardene' was the arrest of Ravi Jayewardene, over his alleged involvement in the first JVP-led insurgency, in 1971, and his release within 24 hours, after JRJ lambasted the government in parliament over his son's arrest.
Both Ravi J and Sharmaine had been experts in rifle shooting, as well as trained pilots. The author passionately discusses the developments, leading to the breaking up of their marriage leading to both re-marrying. The children ended-up with their grandparents. The children had been also bothered by their father's somewhat troubled relationship with their grandmother, whose love for dogs gladdened them.
Their grandfather following Canadian Air Force exercise regime, in the morning, having been a schoolboy boxer and rugby player, and grandmother, walking in the backyard of 'Breamar', as it was not safe to walk in public grounds due to threats posed by the Janatha Vimukthi Peramuna, seemed fresh in the minds of the grandchildren. EJ never had female aides and always received no assistance in readying for official functions. The Jayewardenes never kept even the expensive gifts received from foreign leaders and officials.
The author dealt with elder Jayewardenes' struggle with their three grandchildren. Rukshan recalled how his grandmother slapped him, on more than one occasion, for not being obedient, and grandfather once delivered a thundering slap after JRJ found him arguing with his grandmother. In the wake of the breaking up of Ravi Jayewardene's marriage, JRJ had built a three-roomed house, next to 'Breamar', for the grandchildren. The author provided an excellent description of the life at 'Breamar', and its adjoining house, until the health of the former declined with them both hospitalized together, simultaneously. JRJ had prevented EJ visiting him at the hospital as he felt the sight of him being on a hospital bed would dishearten her.
The Chapter, based on what Ravi Jayewardene's first wife, Sharmaine, said, was truly interesting. That Chapter dealt with Ravi Jayewardene proposing to Sharmaine, her parents rejecting the suggestion, Sharmaine learning Kandyan dancing from Heenbaba Dharmasiri and Niththawela Gunaya at the Sinhala Cultural Institute in Colombo, a chance encounter with EJ and rifle shooting practices at the Negombo Rifle Club, leading to their marriage, in 1959. In spite of the breaking up of their marriage, JRJ and EJ had maintained an extremely cordial relationship with Sharmaine who acknowledged her husband having several other relationships, leading to him leaving their Gregory Road home. The conversation between Sharmaine and JRJ, after the latter realised his son, was not with the family at their newly built house at the Gregory Road, Colombo 7 revealed how JRJ calmly received the breakup of their marriage, though it devastated both JRJ and EJ.
Premadasa assassinated
JRJ and EJ, along with several others, including Pradeep Jayewardene, had been in India, on the day the LTTE assassinated President Ranasinghe Premadasa on May Day 1993. Ironically, JRJ had been there to deliver the keynote address at Rajiv Gandhi's commemoration. The LTTE assassinated Gandhi on May 21, 1991, in Sriperumbudur, India.
Premadasa had been blown to bits at the time JRJ, having delivered the speech, was returning to his seat. They returned home immediately, after the May Day blast, near Armour Street, claimed the life of JRJ's successor along with several of his bodyguards. The assassin happened to be a person who had infiltrated President Premadasa's inner circle for some time.
Premadasa's assassination paved the way for Ranil Wickremesinghe's emergence as the UNP leader, though Dingiri Banda Wijetunga took over the presidency in the wake of Premadasa's assassination. Gamini Dissanayake, the remaining challenger, was assassinated by the LTTE, in Oct 1994 in the run-up to the presidential election, after having briefly got the UNP leadership, not without a struggle with Ranil. The author quoted Galahitiyage Leelawathie, an aide to EJ, as having alleged Wickremesinghe didn't help even if EJ asked. Leelawathie alleged Wickremesinghe flatly refused to help her eldest son, receiving admission to D S Senanayake College, when her husband, Arnolis, Jayewardene family's chief man servant, requested him to do so. Subsequently, Arnolis talked directly to the then DS Principal Alles and got their eldest son admitted. The family got all four boys admitted to DS, one with the help of Minister Nissanka Wijeratne.
Continuing UNP crisis
The UNP is in a deepening crisis, unprecedented in its history. The failure on the part of the party to resolve the leadership issue, over a month after the last general election, is testimony to what has been its indecisive plight, under Ranil, all these years. The UNP is still struggling to cope up with the catastrophic setback against the backdrop of the SLPP's emergence as the most powerful political force in the country. Having been reduced to just one National List member, in the 225-member parliament, the UNP is in such a mess, with over a half a dozen defeated candidates, and former Speaker Karu Jayasuriya, seeking to succeed Wickremesinghe, whereas the latter wants to continue, till the Provincial Council polls. The once invincible UNP, to suffer such a humiliating setback, could be its death knell. JRJ's eldest grandson, Pradeep, has ended up as a member of the Colombo Municipal Council, while Ranasinghe Premadasa's son, Sajith, now commands the Samagi Jana Balavegaya (SJB), a political outfit, recognized under controversial circumstances, at the expense of the UNP. Premadasa made his move having failed to convince Wickremesinghe to give up the leadership, ahead of the last general election. Wickremesinghe, and those close to him, remained convinced UNPers would remain committed to the elephant symbol, though they exercised their franchise in support of Premadasa, who had the backing of the vast majority of the parliamentary group, in the last parliament. In the absence of proper leadership, the UNP moving directionless as the SJB takes the lead in opposing the controversial 20th Amendment to the Constitution proposed to replace the 19th enacted at the onset of the Sirisena-Wickremesinghe administration, in 2015. Will the 20th Amendment prove to be so controversial so as to make it a rallying point for the Opposition, under the SJB's leadership?
---
'Professor of English Language Teaching'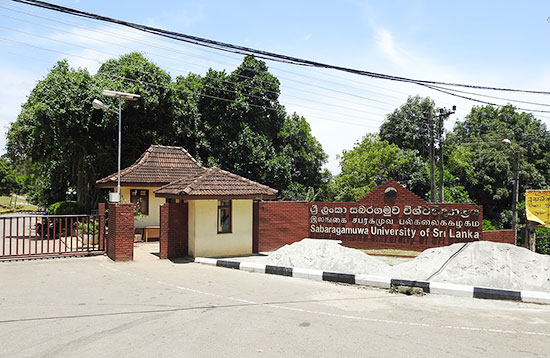 It is a pleasure to be here today, when the University resumes postgraduate work in English and Education which we first embarked on over 20 years ago. The presence of a Professor on English Language Teaching from Kelaniya makes clear that the concept has now been mainstreamed, which is a cause for great satisfaction.
Twenty years ago, this was not the case. Our initiative was looked at askance, as indeed was the initiative which Prof. Arjuna Aluwihare engaged in as UGC Chairman to make degrees in English more widely available. Those were the days in which the three established Departments of English in the University system, at Peradeniya and Kelaniya and Colombo, were unbelievably conservative. Their contempt for his efforts made him turn to Sri Jayewardenepura, which did not even have a Department of English then and only offered it as one amongst three subjects for a General Degree.
Ironically, the most dogmatic defence of this exclusivity came from Colombo, where the pioneer in English teaching had been Prof. Chitra Wickramasuriya, whose expertise was, in fact, in English teaching. But her successor, when I tried to suggest reforms, told me proudly that their graduates could go on to do postgraduate degrees at Cambridge. I suppose that, for generations brought up on idolization of E. F. C. Ludowyke, that was the acme of intellectual achievement.
I should note that the sort of idealization of Ludowyke, the then academic establishment engaged in was unfair to a very broadminded man. It was the Kelaniya establishment that claimed that he 'maintained high standards, but was rarefied and Eurocentric and had an inhibiting effect on creative writing'. This was quite preposterous coming from someone who removed all Sri Lankan and other post-colonial writing from an Advanced Level English syllabus. That syllabus, I should mention, began with Jacobean poetry about the cherry-cheeked charms of Englishwomen. And such a characterization of Ludowyke totally ignored his roots in Sri Lanka, his work in drama which helped Sarachchandra so much, and his writing including 'Those Long Afternoons', which I am delighted that a former Sabaragamuwa student, C K Jayanetti, hopes to resurrect.
I have gone at some length into the situation in the nineties because I notice that your syllabus includes in the very first semester study of 'Paradigms in Sri Lankan English Education'. This is an excellent idea, something which we did not have in our long-ago syllabus. But that was perhaps understandable since there was little to study then except a history of increasing exclusivity, and a betrayal of the excuse for getting the additional funding those English Departments received. They claimed to be developing teachers of English for the nation; complete nonsense, since those who were knowledgeable about cherries ripening in a face were not likely to move to rural areas in Sri Lanka to teach English. It was left to the products of Aluwihare's initiative to undertake that task.
Another absurdity of that period, which seems so far away now, was resistance to training for teaching within the university system. When I restarted English medium education in the state system in Sri Lanka, in 2001, and realized what an uphill struggle it was to find competent teachers, I wrote to all the universities asking that they introduce modules in teacher training. I met condign refusal from all except, I should note with continuing gratitude, from the University of Sri Jayewardenepura, where Paru Nagasunderam introduced it for the external degree. When I started that degree, I had taken a leaf out of Kelaniya's book and, in addition to English Literature and English Language, taught as two separate subjects given the language development needs of students, made the third subject Classics. But in time I realized that was not at all useful. Thankfully, that left a hole which ELT filled admirably at the turn of the century.
The title of your keynote speaker today, Professor of English Language Teaching, is clear evidence of how far we have come from those distant days, and how thankful we should be that a new generation of practical academics such as her and Dinali Fernando at Kelaniya, Chitra Jayatilleke and Madhubhashini Ratnayake at USJP and the lively lot at the Postgraduate Institute of English at the Open University are now making the running. I hope Sabaragamuwa under its current team will once again take its former place at the forefront of innovation.
To get back to your curriculum, I have been asked to teach for the paper on Advanced Reading and Writing in English. I worried about this at first since it is a very long time since I have taught, and I feel the old energy and enthusiasm are rapidly fading. But having seen the care with which the syllabus has been designed, I thought I should try to revive my flagging capabilities.
However, I have suggested that the university prescribe a textbook for this course since I think it is essential, if the rounded reading prescribed is to be done, that students should have ready access to a range of material. One of the reasons I began while at the British Council an intensive programme of publications was that students did not read round their texts. If a novel was prescribed, they read that novel and nothing more. If particular poems were prescribed, they read those poems and nothing more. This was especially damaging in the latter case since the more one read of any poet the more one understood what he was expressing.
Though given the short notice I could not prepare anything, I remembered a series of school textbooks I had been asked to prepare about 15 years ago by International Book House for what were termed international schools offering the local syllabus in the English medium. Obviously, the appalling textbooks produced by the Ministry of Education in those days for the rather primitive English syllabus were unsuitable for students with more advanced English. So, I put together more sophisticated readers which proved popular. I was heartened too by a very positive review of these by Dinali Fernando, now at Kelaniya, whose approach to students has always been both sympathetic and practical.
I hope then that, in addition to the texts from the book that I will discuss, students will read other texts in the book. In addition to poetry and fiction the book has texts on politics and history and law and international relations, about which one would hope postgraduate students would want some basic understanding.
Similarly, I do hope whoever teaches about Paradigms in English Education will prescribe a textbook so that students will understand more about what has been going on. Unfortunately, there has been little published about this but at least some students will I think benefit from my book on English and Education: In Search of Equity and Excellence? which Godage & Bros brought out in 2016. And then there was Lakmahal Justified: Taking English to the People, which came out in 2018, though that covers other topics too and only particular chapters will be relevant.
The former book is bulky but I believe it is entertaining as well. So, to conclude I will quote from it, to show what should not be done in Education and English. For instance, it is heartening that you are concerned with 'social integration, co-existence and intercultural harmony' and that you want to encourage 'sensitivity towards different cultural and linguistic identities'. But for heaven's sake do not do it as the NIE did several years ago in exaggerating differences. In those dark days, they produced textbooks which declared that 'Muslims are better known as heavy eaters and have introduced many tasty dishes to the country. Watalappam and Buriani are some of these dishes. A distinguished feature of the Muslims is that they sit on the floor and eat food from a single plate to show their brotherhood. They eat string hoppers and hoppers for breakfast. They have rice and curry for lunch and dinner.' The Sinhalese have 'three hearty meals a day' and 'The ladies wear the saree with a difference and it is called the Kandyan saree'. Conversely, the Tamils 'who live mainly in the northern and eastern provinces … speak the Tamil language with a heavy accent' and 'are a close-knit group with a heavy cultural background''.
And for heaven's sake do not train teachers by telling them that 'Still the traditional 'Transmission' and the 'Transaction' roles are prevalent in the classroom. Due to the adverse standard of the school leavers, it has become necessary to develop the learning-teaching process. In the 'Transmission' role, the student is considered as someone who does not know anything and the teacher transmits knowledge to him or her. This inhibits the development of the student.
In the 'Transaction' role, the dialogue that the teacher starts with the students is the initial stage of this (whatever this might be). Thereafter, from the teacher to the class and from the class to the teacher, ideas flow and interaction between student-student too starts afterwards and turns into a dialogue. From known to unknown, simple to complex are initiated and for this to happen, the teacher starts questioning.'
And while avoiding such tedious jargon, please make sure their command of the language is better than to produce sentences such as these, or what was seen in an English text, again thankfully several years ago:
Read the story …
Hello! We are going to the zoo. "Do you like to join us" asked Sylvia. "Sorry, I can't I'm going to the library now. Anyway, have a nice time" bye.
So Syliva went to the zoo with her parents. At the entrance her father bought tickets. First, they went to see the monkeys
She looked at a monkey. It made a funny face and started swinging Sylvia shouted: "He is swinging look now it is hanging from its tail its marvellous"
"Monkey usually do that'
I do hope your students will not hang from their tails as these monkeys do.
Little known composers of classical super-hits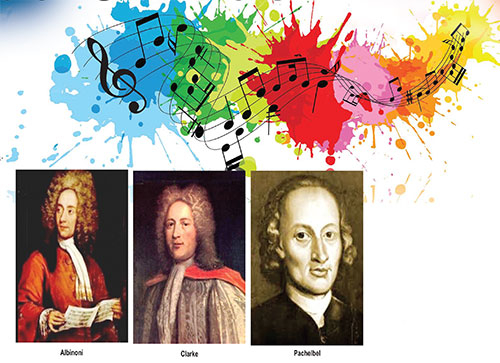 By Satyajith Andradi
Quite understandably, the world of classical music is dominated by the brand images of great composers. It is their compositions that we very often hear. Further, it is their life histories that we get to know. In fact, loads of information associated with great names starting with Beethoven, Bach and Mozart has become second nature to classical music aficionados. The classical music industry, comprising impresarios, music publishers, record companies, broadcasters, critics, and scholars, not to mention composers and performers, is largely responsible for this. However, it so happens that classical music lovers are from time to time pleasantly struck by the irresistible charm and beauty of classical pieces, the origins of which are little known, if not through and through obscure. Intriguingly, most of these musical gems happen to be classical super – hits. This article attempts to present some of these famous pieces and their little-known composers.
Pachelbel's Canon in D
The highly popular piece known as Pachelbel's Canon in D constitutes the first part of Johann Pachelbel's 'Canon and Gigue in D major for three violins and basso continuo'. The second part of the work, namely the gigue, is rarely performed. Pachelbel was a German organist and composer. He was born in Nuremburg in 1653, and was held in high esteem during his life time. He held many important musical posts including that of organist of the famed St Stephen's Cathedral in Vienna. He was the teacher of Bach's elder brother Johann Christoph. Bach held Pachelbel in high regard, and used his compositions as models during his formative years as a composer. Pachelbel died in Nuremburg in 1706.
Pachelbel's Canon in D is an intricate piece of contrapuntal music. The melodic phrases played by one voice are strictly imitated by the other voices. Whilst the basso continuo constitutes a basso ostinato, the other three voices subject the original tune to tasteful variation. Although the canon was written for three violins and continuo, its immense popularity has resulted in the adoption of the piece to numerous other combinations of instruments. The music is intensely soothing and uplifting. Understandingly, it is widely played at joyous functions such as weddings.
Jeremiah Clarke's Trumpet Voluntary
The hugely popular piece known as 'Jeremiah Clarke's Trumpet Voluntary' appeared originally as ' The Prince of Denmark's March' in Jeremiah Clarke's book ' Choice lessons for the Harpsichord and Spinet', which was published in 1700 ( Michael Kennedy; Oxford Dictionary of Music ). Sometimes, it has also been erroneously attributed to England's greatest composer Henry Purcell (1659 – 1695 ) and called 'Purcell's Trumpet Voluntary (Percy A. Scholes ; Oxford Companion to Music). This brilliant composition is often played at joyous occasions such as weddings and graduation ceremonies. Needless to say, it is a piece of processional music, par excellence. As its name suggests, it is probably best suited for solo trumpet and organ. However, it is often played for different combinations of instruments, with or without solo trumpet. It was composed by the English composer and organist Jeremiah Clarke.
Jeremiah Clarke was born in London in 1670. He was, like his elder contemporary Pachelbel, a musician of great repute during his time, and held important musical posts. He was the organist of London's St. Paul's Cathedral and the composer of the Theatre Royal. He died in London in 1707 due to self – inflicted gun – shot injuries, supposedly resulting from a failed love affair.
Albinoni's Adagio
The full title of the hugely famous piece known as 'Albinoni's Adagio' is 'Adagio for organ and strings in G minor'. However, due to its enormous popularity, the piece has been arranged for numerous combinations of instruments. It is also rendered as an organ solo. The composition, which epitomizes pathos, is structured as a chaconne with a brooding bass, which reminds of the inevitability and ever presence of death. Nonetheless, there is no trace of despondency in this ethereal music. On the contrary, its intense euphony transcends the feeling of death and calms the soul. The composition has been attributed to the Italian composer Tomaso Albinoni (1671 – 1750), who was a contemporary of Bach and Handel. However, the authorship of the work is shrouded in mystery. Michael Kennedy notes: "The popular Adagio for organ and strings in G minor owes very little to Albinoni, having been constructed from a MS fragment by the twentieth century Italian musicologist Remo Giazotto, whose copyright it is" (Michael Kennedy; Oxford Dictionary of Music).
Boccherini's Minuet
The classical super-hit known as 'Boccherini's Minuet' is quite different from 'Albinoni's Adagio'. It is a short piece of absolutely delightful music. It was composed by the Italian cellist and composer Luigi Boccherini. It belongs to his string quintet in E major, Op. 13, No. 5. However, due to its immense popularity, the minuet is performed on different combinations of instruments.
Boccherini was born in Lucca in 1743. He was a contemporary of Haydn and Mozart, and an elder contemporary of Beethoven. He was a prolific composer. His music shows considerable affinity to that of Haydn. He lived in Madrid for a considerable part of his life, and was attached to the royal court of Spain as a chamber composer. Boccherini died in poverty in Madrid in 1805.
Like numerous other souls, I have found immense joy by listening to popular classical pieces like Pachelbel's Canon in D, Jeremiah Clarke's Trumpet Voluntary, Albinoni's Adagio and Boccherini's Minuet. They have often helped me to unwind and get over the stresses of daily life. Intriguingly, such music has also made me wonder how our world would have been if the likes of Bach, Handel, Haydn, Mozart, Beethoven, and Schubert had never lived. Surely, the world would have been immeasurably poorer without them. However, in all probability, we would have still had Pachelbel's Canon in D, Jeremiah Clarke's Trumpet Voluntary, Albinoni's Adagio, and Boccherini's Minuet, to cheer us up and uplift our spirits.
The Tax Payer and the Tough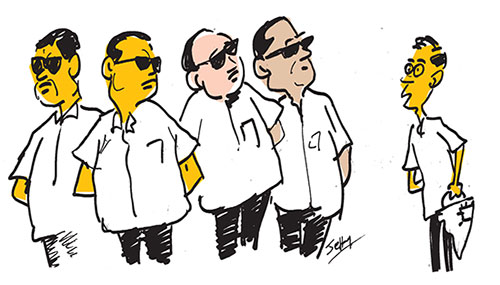 By Lynn Ockersz
The tax owed by him to Caesar,
Leaves our retiree aghast…
How is he to foot this bill,
With the few rupees,
He has scraped together over the months,
In a shrinking savings account,
While the fires in his crumbling hearth,
Come to a sputtering halt?
But in the suave villa next door,
Stands a hulk in shiny black and white,
Over a Member of the August House,
Keeping an eagle eye,
Lest the Rep of great renown,
Be besieged by petitioners,
Crying out for respite,
From worries in a hand-to-mouth life,
But this thought our retiree horrifies:
Aren't his hard-earned rupees,
Merely fattening Caesar and his cohorts?