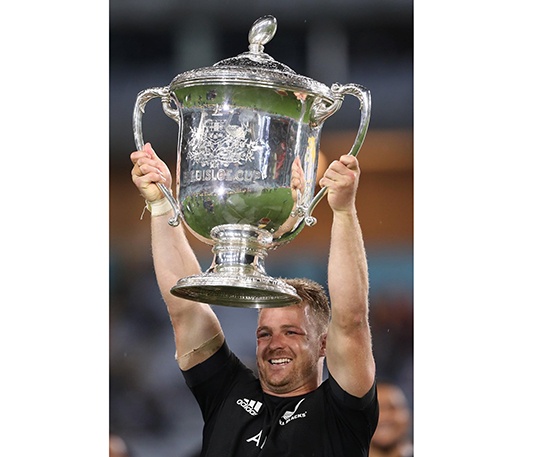 by Rajitha Ratwatte
For mysterious reasons that make sense only to TV executives and the governing body of world rugby, they have chosen to play the so-called "World Championship of Rugby" in Australia. Covid regulations decry that stadia can only be half full and social distancing must be maintained among spectators. Only 18, 000 tickets were sold, Of course, this means more people have to pay exorbitant rates and watch TV! NZ could have easily got around 40,000 people into the ground, on a day that made even the Gods' cry. Pouring with rain all day and the Wallabies kicked off, fielding a side with 6 NZ born players and a handful of Pacific Islanders' to boot. A much-vaunted 20-year-old no10 and 13, both not to belabour a point, born in Aotearoa! The All Blacks not giving a start to new discovery – loosehead prop Alex Hodgeman and sticking with Karl Tu'inukuafe to replace regular Joe Moody who was unable to play due to concussion protocols. Also, Hoskins Sotutu coming in at no8 as the incumbent was on paternity leave, on a day that would ensure a tough forwards battle.
Within 3 minutes the Wallabies displayed part of their game plan and committed a foul on the dynamic young Abs' winger Caleb Clark. Filipo Daugunu his Pacifica origin opposite number, was immediately pinged by the referee who displayed his penchant for using the cards at his disposal and a level of undecidedness and reliability on the TV ref, by dishing out an early yellow card. So, Wallabies down to 14 players for the next 10 minutes. The Aussie skipper was spotted offside in the 5th minute and the resulting touch kick saw the new prop Karl Tu'inukuafe disregard a massive overlap and barely scramble over the line to score mid-left. If the no1 had not made it over the line he would have committed a Ricco Ioanisque type gaff (trying to touch down with one hand and dropping the ball!) that he would have found hard to live down! All Blacks 7 – 0 up in the 6thminute.
The referee decided to try to even things up for Aussies, and possibly continue with the illusion that he was refereeing a game of netball, by yellow carding Jodie Barret for what was deemed a dangerous tackle. 9thminute both teams down to 14 players each. In the 9th Minute Ritchie Muanga, who had an exceptional game even by his standards, Kicked cross-field for Dan Coles the AB hooker who was lurking in the wing and showed a great turn of speed to put himself onside and get across the line putting enough downward pressure on the ball to satisfy the on-field ref who signalled an on-field try. However, the TV ref soon changed his mind and the try was disallowed! The Blacks kept attacking and the first scrum of the game was held in the 11thminute with the Wallabies defending on their 5-meter line. The Wallaby no9 Nick White let down his debutant no10 by not kicking for clearance himself and passing the ball to the rookie who didn't do a very good job. The resulting lineout still well inside Wallaby territory saw Sam Whitelock do his usual totally professional job of getting the ball back to his three quarters and Caleb Clark barrelled his way over the line, only to meet with superb defence from his opposite number, who put his body under the ball and stopped the ball being grounded. Great work and another possible 7 pointer disallowed. All Blacks looking ominously good.
At this point in the 13th minute, the Wallabies were back to 15 players and the AB's still One short. The one-dimensional play of the AB's no1 Karl Tu'inukuafe was exposed at this stage with a simple knock-on. This lack of skills and mobility has no place in the modern game and is what earned front-row forwards a bad name and much ridicule in the past! It took 19 minutes before Jodie Barret was allowed back into play and Ritchie Muanga decided to show the Wallaby coaches that a mere 20 year old (who probably grew up in NZ idolizing the All Blacks and had just faced a Haka) was no match for him and scythed his way through the Oz defence to score far right in the 20th minute. Now the conversion was difficult and the Blacks have two other kickers in the Barret brothers but a visibly tired Muanga was asked to take the kick and he missed. This is the lack of on-field decisions and the myopic thinking from the leadership and management of this great team that could lead to trouble in a tight match. 12 – 0 to the Blacks. In the 26th minute, Beauden Barret slotted himself into first receiver and a clever chip kick over the first line of Aussie defence saw Ritchie Muanga show his speed once more, a favourable bounce from the notoriously fickle and unpredictable rugby ball allowed Muanga to collect the ball easily and head for the line with no Aussie indigenous jerseys (Aussies were playing in green jerseys in honour of the 14 indigenous players who have represented them over the years) in sight! I wonder if a Black Stripe will be added to their traditional Yellow jersey to honour the NZ born players…In fact, there were only 3 black jerseys in the final frame before Ritchie Muanga touched down under the posts. 19 – 0 All Blacks ahead.
This was time to get worried for the Wallabies. Each AB player was showing consummate skill and professionalism and looked completely at home in his position. The AB's skipper showed it off by winning a turnover and getting the ball out to Goodhue in the centre who showed just how important it is to think and assess when making decisions in this great game of rugby union and kicked ahead beautifully for his no11 Caleb Clark to make good ground and allow Dan Coles to get his long-elusive try. This time the referee and the TV ref could not find anything wrong and Muanga converted making it 26 – 0 with just a few minutes to go to half time. Muanga almost did it again in the 39th minute, showing a clean pair of heels, he was clear but a last-minute desperate ankle tap saw him lose his balance and the half time score remained at 26 – 0. 4 tries had been scored by the AB's, two of those by no10 Ritchie Muanga and two more disallowed.
Whatever happened "discussion" wise and consumption wise in the Aussie dressing room at half time resulted in the two NZ born backs Noah Lolesio and Jordan Petaia (the latter played very well throughout) combining beautifully resulting in an Aussie try just 1 minute into the 2nd half. However a fairly straightforward kick was missed by the 20-year-old NZ born no10 Noah Lolesio, and the score read 26 – 5. This resurgence of Aussie play was acknowledged by the weather gods with a cessation of the rain. However, the conditions were still very greasy. In the 44th minute, the Wallabies had a kickable penalty but 3 points didn't mean much at this stage and the touch option was taken. The Wallabies had their best phase of the game during the next 15 – 20 minutes and the Blacks resorted to their bench. Dan Coles (inexplicably) went off and Codie Taylor came on, so did my favourite no1 Alex Hodgeman. Sam Whitelock continued to do his thing, faultlessly and quietly and most of all SO reliably. Great loose play winning turnovers and even turning them into penalties but the Aussies were playing their hearts out.
In the 52nd minute, the All Blacks got a scrum penalty (my MAN at no1!) but lost the ball to a turnover deep in Aussie territory. A bad mistake and against the run of play. The 55th minute saw Scott Barret come on for Patrick Tuapoletu and TJ Peranara replace Smith at no9. The Aussie dominance needed to be reversed at a kickable penalty in the 59th minute was taken by the NZ team and the score moved on to 29 – 5. At this stage, it seemed like all the bench players were on for both sides. Wallabies wasted a possible touch finder by kicking too deep and sending the ball over the dead-ball line. Inexperience showing through and not the type of mistake a team can make at this level. The Aussies kept attacking and the Kiwi skipper Sam Cane won a great defensive penalty in the 64th minute but shortly thereafter, he took a bad knock on the head and left the field for a HIA. A setback for the Blacks but the ever-reliable Sam Whitelock took over the reins.
Whitelock took the decision to have a scrum off a 5-meter penalty awarded in Wallaby territory and we realised why shortly thereafter. Ricco Ioane was on the field (on the wing and NOT as a centre) and a carefully rehearsed move saw the no8 come out with the ball work the blindside and Ioane went over in a flash and even touched down with his characteristic one-handed move that had been such a disaster two weeks ago. He seemed jubilant when he touched down extreme right and Muanga slotted a difficult kick – 36 – 5.
In the 73rd minute Jodie Barret who had now moved to full back as his brother Beauden had been subbed off, joined the line midfield, broke through and sailed down the middle like a galleon under full rig or to use a more modern metaphor like the America's Cup challenger under full sail and was completely unstoppable. He scored under the posts and Muanga made no mistake. 43 – 5 and the Bledisloe Cup was going to be retained for the 18th year in a row.
The referee, however, was determined to remain the centre of attraction, yellow carding Shannon Frazelle in the last minute of the game for what was deemed an illegal tackle of some sort that could only be deciphered in the convoluted permutations that had clouded his mind throughout the game. Even the TV ref exonerated the cited player but pedanticity (to use another "new" and polite word rather than the word I would REALLY like to use) prevailed.
The big silver trophy was retained, apparently, it holds 42 cans of the cold stuff and no doubt it was used as a worthy receptacle of the finest brew last night. Great game for the All Blacks and the biggest winning margin of the Bledisloe cup EVER.
supersubsports@gmail.com
---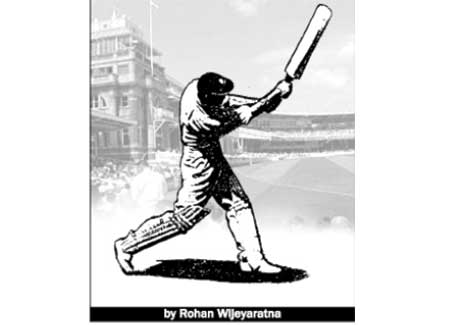 (This article by The Island's respected cricket columnist Rohan Wijeyaratne first appeared in these pages 16 years ago; on the 11th of June 2005. As World Cup winning former captain and current Prime Minister of Pakistan Imran Khan has just visited the island, we reproduce this article in today's edition)
In my youth – which is to say, quite a long time ago – I would often go to the YMCA canteen for a snack and a tea after whatever business that brought me to the Fort. Doing the same recently more for old times sake than anything else, I saw a familiar figure ahead of me heading in the same direction. Quickening my step and drawing abreast, I introduced myself to the gentleman concerned. He was none other than my old school English teacher, V. Thanabalasingham.
Not just a teacher, but an Institution
Those of you who may have passed through the portals of Ananda College during the 1960s and the early 70s and no doubt been well rounded in many ways, will admit to a man that when it came to the teaching of English, the name Thanabalasingham held no peer. In his prime, he was not just a brilliant teacher but an Institution. And volumes wouldn't suffice to do him justice – such was the impact he made on all whom he touched, be it with the brilliance of Thackeray, Dickens, Chaucer or the Direct Method English Course that served as our bread and butter in English education at the time.
Another, from a different mould
Another teacher from an entirely different mould was Upali Ratnayake, now the Executive Director of CIMA. At the time he was introduced to us at the 'A' level stage, he appeared to our free spirits a cut above the rest. He acquired this status by doing exactly the opposite of what he was expected to do, which was to teach us English as a preparatory step towards an easier passage through University. Upali Ratnayake actually taught us nothing. Yet we learnt a good deal off him, discussing almost everything other than the subject he was paid for! His most endearing virtue was that he never spoke to us from a great height. And in that process, he taught us one of the most lasting lessons in life.
Several decades later, I nearly fell off my chair to receive a phone call from him inviting me to the BMICH on the 28th of May where Imran Khan and Kumar Sangakkara were due to speak at the CIMA Global Leaders Summit. The topics for discussion were "Passion for Perfection" and "Ordinary people in extraordinary acts." The topics and the speakers seemed irresistible. And so I went.
What a speech!
I wasn't disappointed. Neither were hundreds of others present. And predictably, Imran stole the show. Blessed with a presence that would have put any Grecian god to second class status, this tall, elegant and immensely handsome man spoke with such brilliance, clarity and articulation, the end result was as gripping as it was inspiring. In his wake, those who followed appeared cumbersome and dreary, almost like how Kenny Mackay would appear after the brilliance of a vintage Sobers or a Dexter! Kumar Sangakkara having to make do with less time than was his rightful share went largely unheard, tending to speak more to his fellow panelists than his audience. He will learn. As a probable hot contender to the top post after Atapattu, there will be many more occasions where he will be required to speak in public.
"Ambition must be upgraded, never downgraded"
Imran was of the view that all humans were endowed with limitless potential. Their limits if any, were often self imposed. Those who achieved extraordinary heights were those who dared to go beyond their self imposed limits. They thought big, dreamed big and did not allow their limitations to get in the way of achieving their dreams. He drew parallels from his own experiences in cricket, his cancer hospital project and his involvement in national politics to establish the point.
The four secrets
Starting with cricket, and drawing parallels with other legends including Zaheer Abbas, Imran stressed the need for a clear vision, the hunger to succeed, the willingness to sacrifice and self belief as being the four secrets to achieve one's vision. Self belief was a factor which Abbas, despite all his God given gifts, had in very short supply. Imran, on the other hand, was full of it (sometimes foolishly!), because he never thought he ever could lose a game each time he stepped on to a cricket field. He gave many examples of it, including the victories against the might of the 'invincible' West Indians in 1986 against all odds. And that, despite having requested and got, 'neutral' umpires in a home series in Pakistan! He just wanted to make sure that when they won, there would be none to say that the umpires had anything to do with it!
Drawing from examples of his own life, Imran said that in all one's life, one would hear others say why something cannot be done. That if accepted, would be the start of everyone's downward spiral. Ambition he said, must be upgraded, never downgraded. And the more you pit your mind against the winds that resist you from reaching your ambition, the stronger your mind will become. Therefore, ambition must take precedence over everything. And towards achieving that, one should be willing to sacrifice anything. "Compromise" said Imran "for your vision, but never ever on your vision." Great words!
Why the 3rd world is the 3rd world!
Relating what made him take to politics, Imran said that the problem with the third world was that the ruling elite would put itself above the law and deprive the ordinary folk of any justice. Hence his political movement was primarily meant to establish the rule of law in his country, where the weak and the strong were equal in the eyes of the law. "No society in the history of mankind has ever progressed without the rule of the law. The reason why the third world remained the third world was because it had very poor rule of the law. The elitist types did whatever they wished and got away with it, while the common man and the small and medium industrialist were all deprived of justice." None could have spoken a truer word!
The ways of the mafia
Imran went on to say that when fighting for the rule of Law, one would be pitted against entrenched vested interests; the most powerful elite in the country. These were those who could buy justice. In Imran's case, these were men who were also his good friends. Yet he preferred to take on the mantle of a social pariah instead, preferring to stand steadfast to his vision. The mafia usually reacts in such situations in either of two ways. They would either eliminate you or make you join the system. Just five months after his party was formed, he was offered 30 seats in Parliament out of 270. Imran refused, because he realized he had no chance of winning against entrenched political families that controlled his country. He knew the moment he joined them, he would need to compromise with his vision. So he refused, and got wiped out at the elections.
Refusing the Prime Ministership of Pakistan
When General Musharaff took over with Pakistan's fourth military dictatorship in its brief history, he made all the right noises such as ridding the country of "sham" democracy and so on. No sooner Musharaff formed his own party, Imran was yet again invited, this time to become the Prime Minister of Pakistan. "But when I discovered that joining his coalition meant joining the biggest crooks in the country," he had no difficulty in refusing. He was chided for his decision by many who argued that he could have joined and then fixed things up. But Imran said the decision was easy to make, as his vision was very clear. And it was one's vision that decided when to compromise and when not to.
Imran's vision
Imran's vision was an independent and credible judicial system in Pakistan. So he asked himself the question, could General Musharaff afford an independent judiciary? The answer to him was obvious. If such a judicial system prevailed, most of the powerful men in his country would be tried for treason under article six of the country's constitution. The sentence for treason was death. And he was therefore convinced that neither Musharaff, nor those around him could afford an independent and credible judicial system. And so, with his firm "No" Imran watched his party being destroyed yet again, to one seat, in parliament. This time it was by General Musharaff himself.
(To be continued tomorrow)
Spinners give India early advantage in third Test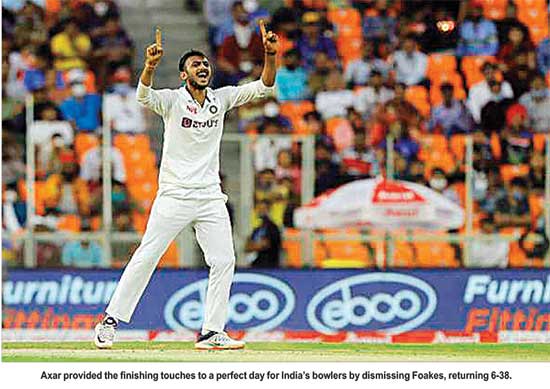 Indian spinners shot England out for just 112 inside two sessions with Ravichandran Ashwin and Axar Patel sharing the spoils after pacer Ishant Sharma opened the floodgates in his milestone 100th match on the opening day of the day-night third Test in Ahmedabad yesterday.
England were all out for 112 in 48.4 overs in the second session on a spin-friendly Motera pitch with Patel (21.4-6-38-6) grabbing his second five-for in his second Test while Ashwin (16-6-26-3) took three.
Openers Rohit Sharma (5) and Shubman Gill (0 ) negotiated five overs to take India to five for no loss at the dinner break.
Gill, however, survived after TV umpire ruled him not out in the third over after England claimed for a catch.
Ishant, only the second Indian fast bowler after Kapil Dev to play in 100 Tests, fittingly took India's first wicket in the third over as he dismissed opener Dominic Sibley for nought.
Thereafter, it was all an Ashwin and Patel show as the duo bamboozled the England batsmen to complete the submission, except for the other opener Zak Crawley, who hit an eminently delectable half-century. Six English wickets fell in the second session.
England did not have any substantial partnership with the 47-run stand for the third wicket being the highest. They lost their last seven wickets for just 38 runs.
Crawley's brilliance was, however, neutralised by the Indian spinners as England were left reeling at 81 for four going into tea after an exciting opening session in the pink ball Test.
Two wickets fell in as many overs after the resumption of the second session, with Ashwin and Patel taking one each, to reduce England to 81 for 6.
Ashwin sent Ollie Pope's (1) off-stump cart-wheeling with a beauty of a delivery, bowling round the wicket, before Patel trapped Ben Stokes (6) LBW in the next over with a ball that spun in.
Jofra Archer (11) did a tad better as he hit a four in the second ball he faced and another boundary off Ashwin. But, Patel had him soon, cleaning up his off-stump to send England innings into a mess.
England's rapid slide continued with Jack Leach edging one to the gully where Cheteshwar Pujara took a low catch off Ashwin, though the TV umpire took time to confirm the decision.
Crawley's effort was the only silver lining for England. Having missed the first two Tests due to a freak wrist injury, the stylish right-hander's driving was elegance personified as he hit ten boundaries during his 84-ball 53.
Top players secure third round places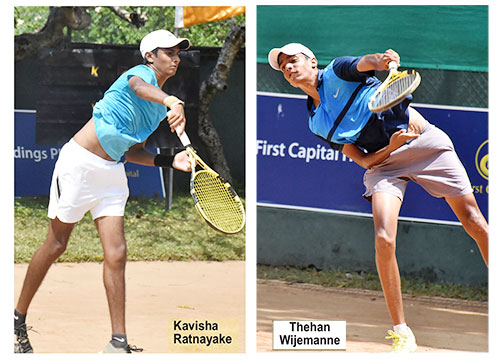 SSC Open Ranking Tennis
Thehan Wijemanne, Kavisha Ratnayake, Vibuda Wijebandara, Savith Weerasinghe, Kiran Viravanathan, Archana Lokuge advanced to the men's singles third round at the SSC Open Ranking tennis tournament on Tuesday.
Some of the leading players fighting to improve on their impressive performances produced at the Tennis Nationals and the Colombo Championships during recent weeks knocked out their opponents easily to secure third round places.