The purpose of education and educational reforms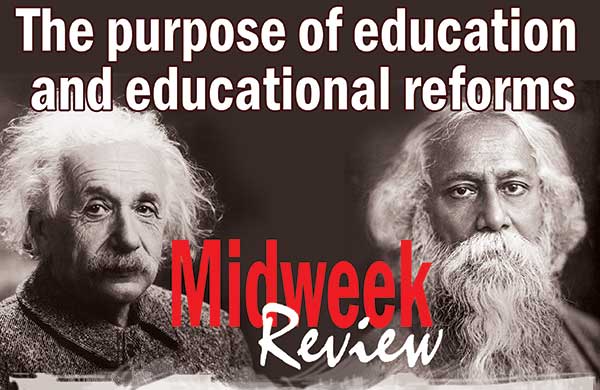 By Kirthi Tennakone
Education offers two categories of benefits to people — an avenue for acquiring necessary skills for occupation to earn material wealth and an intellectual enlightenment. These two virtues of education are interlinked, inseparable and equally important. Yet, most individuals and societies blindly overemphasise the former hoping to reap quick economic returns. Educational reforms planned to be introduced in Sri Lanka and generally elsewhere in the developing world seems to prioritise the first category of benefits, believing the second leads to unemployment and poverty. Nevertheless, the quality that paves way towards rational thinking, innovation and empathetic social cooperation is the second intension. In the long run its neglect curtails the material advancement as well.
The technological weakness in developing nations and misbeliefs detrimental to social progress prevalent in deprived as well as affluent regions of the world originate largely from deficiency in intellectual aspects of education. The both the components of education, occupational and intellectual are absolutely essential – cutting down the second to accommodate the first would be counterproductive and disastrous.
What is education?
The term 'education' evades precise definition. If definable there would be clear-cut methods of achieving it and assessing the level of competence. Exams, degrees and skills mastered are not real measures of education. The meaning of education goes beyond the common dictionary definition – gaining knowledge and acquisition of skills.
The quotes of persons of eminence reflects the essence and purpose of education. Socrates argued education amounts to drawing out the already existing potential of students. Rabindranath Tagore said the widest road leading to solution of all our problems is education. Nelson Mandela valued his education, declaring education as the most peaceful weapon which can change the world. According to a shloka in 'Bhagavad Gita', intelligence enables perceiving the essential and education instill this capacity. Albert Einstein was controversial in his remarks about education, saying "Education is what remains after one has forgotten what one has learnt in school" and "The only thing that interfere with my learning is my education". Obviously he was commenting about pitfalls of formal education-closing open-mindedness and fixing tradition irrevocably.
Education excessively biased towards vocational needs, lessening the intellectual aspect, tends to fix traditional orthodoxy against open mindedness in understanding issues and resolving problems. Contrarily all creative works in art, literature, science and technical innovations are products of out-of-the box-thinking. An open mind bends more flexibly towards unconventionality, reason, justice and ethical responsibility.
There are social influences that hinder open-mindedness, creativity, innovations, rationality and ideals of fair play. Educational reforms and social development strategies should take these factors into consideration.
Introduction and education
Indoctrination is imposition of beliefs and ideas without providing credible supportive evidence for their validity. Unlike in education, indoctrination discourages questioning and critical analysis. Often doctrines are justified as tradition or faith or something enunciated in scripture or enforcement by an ideology. In earliest days, education and indoctrination were largely indistinguishable. The literate men of antiquity adhered to established doctrines, subjecting them to repetitive discussion and interpretation.
In recent times authoritarian regimes had introduced political indoctrination revising textbooks and school curricula. Communist politics thereby indoctrinated masses promoting vocational education tinted with Marxist ideology.
Greeks were first to deviate from indoctrination and initiate questioning on basis of rational argument. According to recorded history, Thales of Mellitus (626-545 BCE) was the first philosopher who sought answers to natural phenomena by reasoning and evidence. The ideas of Thales were greatly expounded by Aristotle. However, his teachings were continued for nearly 2000 years unquestioned. Without resorting to experiment Aristotle said, if two unequal weights are dropped from a height, the heavier one hits ground first. Galileo, dropping two weights from the Leaning Tower of Pisa, proved Aristotle is wrong – both weights hit ground at the same time.
Breaking away from indoctrination had been an arduous task. The rational conclusions of the wise were opposed – sometimes threatened with imprisonment or death. Socrates died in Athens for free speech and disbelieving gods. The Italian astronomer and mathematician Giordano Bruno (1548-1600 CE) who hypothesized that stars are objects similar to the sun surrounded by planets was declared an impenitent by the Roman Catholic Church and punished by burning alive. Prosecutions for blasphemy continues to date.
The diffusion of the Greek philosophy of seeking rational explanations was the main cause of European scientific and technological advancement and realization of democratic values. The resistance to liberation from indoctrination is greater in the East – perhaps accounting for the comparative weakness. Indoctrination in different forms continue to exist everywhere to a greater or lesser extent. Freeing of society of such brain washings will vitalize human potential, promote innovations and help to eliminate dangerous fundamentalism and ideologies contrasting democracy.
Education in its true spirit begins in early childhood. Parental care and interaction with the environment induce inquisitiveness. Little later parents and elders introduce indoctrination voluntarily or involuntarily. If the child does something considered inappropriate, instead of explaining why what he or she did is bad, an elder would say such acts carry people to hell. They are also told that deeds of charity will reward them similarly in future – inculcating a selfish motive rather than a humanitarian concern.
Exposure to irrational beliefs happens in schools, public discussions and in casual conversation. An environment of such influences is not conducive to creativity, innovation and infusing truly ethical values to a society.
An indoctrinated mind fails to utilize knowledge he or she has gained in real situations, but inadvertently resort to the customary tradition. A teacher after discussing heat loss mechanisms in the class room returns home and boil potatoes in an open pan. An engineer ignores bad weather in laying the foundation for his house in favor of a so-called auspicious time. The teacher and the engineer uses scientific knowledge in their professions, but in domestic affairs it is the tradition or occultism! These two hypothetical examples point to a social psychosis adversely affecting progress. Recently, Singapore Prime Minister Lee Hsien said, "we cannot afford to have people who are fearful and distrust science, or who are held captive by groundless anti-scientific beliefs.
Education to nuture creativity and innovation
Creativity is conceiving an entirely new concept often preceded by imagination. Innovation means implementation of a new idea. Education is a prerequisite for reaping of outputs from above qualities, but the process of education can either boost or kill them.
Children are born creative and innovative. Initially they interact with parents and animate or inanimate objects displaying the ability to create and innovate – dismantling a toy is an act of curiosity. They need to be persuaded to imagine, telling stories, inspiring words and allowed to play. Instructing the kid how to assemble the toy so that he or she could qualify as a robotic engineer is a mistake.
Today, most parents burden their children with instructions to prepare for a job of their choice which they aspire their sons and daughters to assume decades later – the preference is a profession that allows earning the most money in the shortest time. Private tutors avoid teaching fundamentals and historical development of a subject, coaching students to answer questions without uttering words of inspiration – as their aim is to enable students to pass exams with minimum intellectual effort in the shortest time. The above attitudes almost completely destroy the creative talent, producing persons without capacity to move beyond the routine.
Uninspiring and un-pedagogical ways of introducing ideas are also prevalent in schools and universities. In teaching mechanics, Newton's laws are introduced as if they have come from a disciple in the heavens. These laws are clever abstractions by a mortal – the only validity being the agreement of the derivations from laws with observation. Most teachers fail to emphasize this point. The former approach scares students to attempt things of the caliber of Newton. Whereas the latter motivates students to realize that the subject falls within their reach.
Education reforms: Counterproductive approaches
Free education in Sri Lanka is a success – exemplary to the region. The benefits of the national education effort have gone beyond elimination of illiteracy. It has delivered a work force that can do all routine things and ones that require special skills. Citizens are well informed and accommodated in fair living standards cost effectively. Achievements in the health sector owes much to education. People following recommended safeguards against COVID is prime example. Despite all the above positives, the Sri Lankan education system is blamed for not rendering innovations to drive the economy. A proposed remedy has been to revise curricula to make them more relevant. A prevalent erroneous consensus floating around classifies art, literature, humanities and fundamental science as useless and advocate replacing them with vocationally oriented technical themes and business studies. In fact former are the disciplines that motivates students to imagine, think, fathom ideas and learn the art of writing, all students need to be exposed to these themes of learning at least in the school and preferably at the university and vocational training institutions.
The core areas of fundamental science are physics, chemistry, biology and mathematics. The purpose of the faculties of science in universities should be to teach basics of these subjects rigorously and comprehensively. Diluting the curricula with so-called relevant applied themes would be counterproductive, not conducive to nurturing persons of outstanding creative talent.
In countries all over the world universities and few research institutions are mandated to engage in fundamentals studies, generally funded by the government, as such endeavors are an absolute necessity to foster intellectual advancement of the society. Furthermore all major innovation have resulted from such research. Again original findings in fundamental science greatly escalate the scientific standing of a nation. If these institutions indulge heavily in less challenging applied research themes, sometimes trivialities on the pretext of relevance, the consequence of the neglect of fundamental component will be a second class status for science technology. Countries that have attained major economic advances in recent times via technological innovations, have also invested in education and research in basic science and related activities to promote creativity.
The purpose of education is broad and diverse, a preparation for facing untold circumstances and exploring new avenues. One must keep in mind that narrow and rigid education reforms may turn out to be counterproductive. It is essential to keep a balance between disciplines, those expected to deliver short-term economic returns and ones that stimulate the intellect.
Kirthi Tennakone Adjunct Professor at the National Institute of Fundamental Studies can be reached via ktenna@yahoo.co.uk
---
'Professor of English Language Teaching'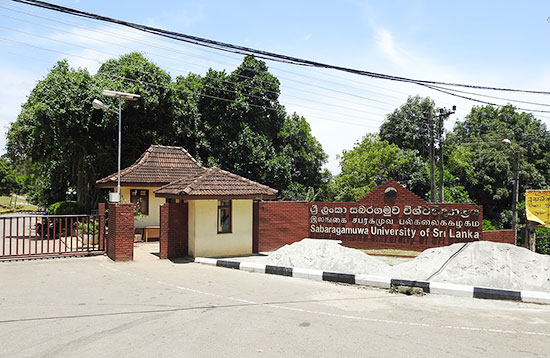 It is a pleasure to be here today, when the University resumes postgraduate work in English and Education which we first embarked on over 20 years ago. The presence of a Professor on English Language Teaching from Kelaniya makes clear that the concept has now been mainstreamed, which is a cause for great satisfaction.
Twenty years ago, this was not the case. Our initiative was looked at askance, as indeed was the initiative which Prof. Arjuna Aluwihare engaged in as UGC Chairman to make degrees in English more widely available. Those were the days in which the three established Departments of English in the University system, at Peradeniya and Kelaniya and Colombo, were unbelievably conservative. Their contempt for his efforts made him turn to Sri Jayewardenepura, which did not even have a Department of English then and only offered it as one amongst three subjects for a General Degree.
Ironically, the most dogmatic defence of this exclusivity came from Colombo, where the pioneer in English teaching had been Prof. Chitra Wickramasuriya, whose expertise was, in fact, in English teaching. But her successor, when I tried to suggest reforms, told me proudly that their graduates could go on to do postgraduate degrees at Cambridge. I suppose that, for generations brought up on idolization of E. F. C. Ludowyke, that was the acme of intellectual achievement.
I should note that the sort of idealization of Ludowyke, the then academic establishment engaged in was unfair to a very broadminded man. It was the Kelaniya establishment that claimed that he 'maintained high standards, but was rarefied and Eurocentric and had an inhibiting effect on creative writing'. This was quite preposterous coming from someone who removed all Sri Lankan and other post-colonial writing from an Advanced Level English syllabus. That syllabus, I should mention, began with Jacobean poetry about the cherry-cheeked charms of Englishwomen. And such a characterization of Ludowyke totally ignored his roots in Sri Lanka, his work in drama which helped Sarachchandra so much, and his writing including 'Those Long Afternoons', which I am delighted that a former Sabaragamuwa student, C K Jayanetti, hopes to resurrect.
I have gone at some length into the situation in the nineties because I notice that your syllabus includes in the very first semester study of 'Paradigms in Sri Lankan English Education'. This is an excellent idea, something which we did not have in our long-ago syllabus. But that was perhaps understandable since there was little to study then except a history of increasing exclusivity, and a betrayal of the excuse for getting the additional funding those English Departments received. They claimed to be developing teachers of English for the nation; complete nonsense, since those who were knowledgeable about cherries ripening in a face were not likely to move to rural areas in Sri Lanka to teach English. It was left to the products of Aluwihare's initiative to undertake that task.
Another absurdity of that period, which seems so far away now, was resistance to training for teaching within the university system. When I restarted English medium education in the state system in Sri Lanka, in 2001, and realized what an uphill struggle it was to find competent teachers, I wrote to all the universities asking that they introduce modules in teacher training. I met condign refusal from all except, I should note with continuing gratitude, from the University of Sri Jayewardenepura, where Paru Nagasunderam introduced it for the external degree. When I started that degree, I had taken a leaf out of Kelaniya's book and, in addition to English Literature and English Language, taught as two separate subjects given the language development needs of students, made the third subject Classics. But in time I realized that was not at all useful. Thankfully, that left a hole which ELT filled admirably at the turn of the century.
The title of your keynote speaker today, Professor of English Language Teaching, is clear evidence of how far we have come from those distant days, and how thankful we should be that a new generation of practical academics such as her and Dinali Fernando at Kelaniya, Chitra Jayatilleke and Madhubhashini Ratnayake at USJP and the lively lot at the Postgraduate Institute of English at the Open University are now making the running. I hope Sabaragamuwa under its current team will once again take its former place at the forefront of innovation.
To get back to your curriculum, I have been asked to teach for the paper on Advanced Reading and Writing in English. I worried about this at first since it is a very long time since I have taught, and I feel the old energy and enthusiasm are rapidly fading. But having seen the care with which the syllabus has been designed, I thought I should try to revive my flagging capabilities.
However, I have suggested that the university prescribe a textbook for this course since I think it is essential, if the rounded reading prescribed is to be done, that students should have ready access to a range of material. One of the reasons I began while at the British Council an intensive programme of publications was that students did not read round their texts. If a novel was prescribed, they read that novel and nothing more. If particular poems were prescribed, they read those poems and nothing more. This was especially damaging in the latter case since the more one read of any poet the more one understood what he was expressing.
Though given the short notice I could not prepare anything, I remembered a series of school textbooks I had been asked to prepare about 15 years ago by International Book House for what were termed international schools offering the local syllabus in the English medium. Obviously, the appalling textbooks produced by the Ministry of Education in those days for the rather primitive English syllabus were unsuitable for students with more advanced English. So, I put together more sophisticated readers which proved popular. I was heartened too by a very positive review of these by Dinali Fernando, now at Kelaniya, whose approach to students has always been both sympathetic and practical.
I hope then that, in addition to the texts from the book that I will discuss, students will read other texts in the book. In addition to poetry and fiction the book has texts on politics and history and law and international relations, about which one would hope postgraduate students would want some basic understanding.
Similarly, I do hope whoever teaches about Paradigms in English Education will prescribe a textbook so that students will understand more about what has been going on. Unfortunately, there has been little published about this but at least some students will I think benefit from my book on English and Education: In Search of Equity and Excellence? which Godage & Bros brought out in 2016. And then there was Lakmahal Justified: Taking English to the People, which came out in 2018, though that covers other topics too and only particular chapters will be relevant.
The former book is bulky but I believe it is entertaining as well. So, to conclude I will quote from it, to show what should not be done in Education and English. For instance, it is heartening that you are concerned with 'social integration, co-existence and intercultural harmony' and that you want to encourage 'sensitivity towards different cultural and linguistic identities'. But for heaven's sake do not do it as the NIE did several years ago in exaggerating differences. In those dark days, they produced textbooks which declared that 'Muslims are better known as heavy eaters and have introduced many tasty dishes to the country. Watalappam and Buriani are some of these dishes. A distinguished feature of the Muslims is that they sit on the floor and eat food from a single plate to show their brotherhood. They eat string hoppers and hoppers for breakfast. They have rice and curry for lunch and dinner.' The Sinhalese have 'three hearty meals a day' and 'The ladies wear the saree with a difference and it is called the Kandyan saree'. Conversely, the Tamils 'who live mainly in the northern and eastern provinces … speak the Tamil language with a heavy accent' and 'are a close-knit group with a heavy cultural background''.
And for heaven's sake do not train teachers by telling them that 'Still the traditional 'Transmission' and the 'Transaction' roles are prevalent in the classroom. Due to the adverse standard of the school leavers, it has become necessary to develop the learning-teaching process. In the 'Transmission' role, the student is considered as someone who does not know anything and the teacher transmits knowledge to him or her. This inhibits the development of the student.
In the 'Transaction' role, the dialogue that the teacher starts with the students is the initial stage of this (whatever this might be). Thereafter, from the teacher to the class and from the class to the teacher, ideas flow and interaction between student-student too starts afterwards and turns into a dialogue. From known to unknown, simple to complex are initiated and for this to happen, the teacher starts questioning.'
And while avoiding such tedious jargon, please make sure their command of the language is better than to produce sentences such as these, or what was seen in an English text, again thankfully several years ago:
Read the story …
Hello! We are going to the zoo. "Do you like to join us" asked Sylvia. "Sorry, I can't I'm going to the library now. Anyway, have a nice time" bye.
So Syliva went to the zoo with her parents. At the entrance her father bought tickets. First, they went to see the monkeys
She looked at a monkey. It made a funny face and started swinging Sylvia shouted: "He is swinging look now it is hanging from its tail its marvellous"
"Monkey usually do that'
I do hope your students will not hang from their tails as these monkeys do.
Little known composers of classical super-hits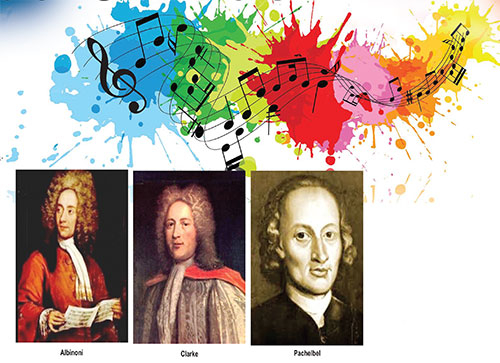 By Satyajith Andradi
Quite understandably, the world of classical music is dominated by the brand images of great composers. It is their compositions that we very often hear. Further, it is their life histories that we get to know. In fact, loads of information associated with great names starting with Beethoven, Bach and Mozart has become second nature to classical music aficionados. The classical music industry, comprising impresarios, music publishers, record companies, broadcasters, critics, and scholars, not to mention composers and performers, is largely responsible for this. However, it so happens that classical music lovers are from time to time pleasantly struck by the irresistible charm and beauty of classical pieces, the origins of which are little known, if not through and through obscure. Intriguingly, most of these musical gems happen to be classical super – hits. This article attempts to present some of these famous pieces and their little-known composers.
Pachelbel's Canon in D
The highly popular piece known as Pachelbel's Canon in D constitutes the first part of Johann Pachelbel's 'Canon and Gigue in D major for three violins and basso continuo'. The second part of the work, namely the gigue, is rarely performed. Pachelbel was a German organist and composer. He was born in Nuremburg in 1653, and was held in high esteem during his life time. He held many important musical posts including that of organist of the famed St Stephen's Cathedral in Vienna. He was the teacher of Bach's elder brother Johann Christoph. Bach held Pachelbel in high regard, and used his compositions as models during his formative years as a composer. Pachelbel died in Nuremburg in 1706.
Pachelbel's Canon in D is an intricate piece of contrapuntal music. The melodic phrases played by one voice are strictly imitated by the other voices. Whilst the basso continuo constitutes a basso ostinato, the other three voices subject the original tune to tasteful variation. Although the canon was written for three violins and continuo, its immense popularity has resulted in the adoption of the piece to numerous other combinations of instruments. The music is intensely soothing and uplifting. Understandingly, it is widely played at joyous functions such as weddings.
Jeremiah Clarke's Trumpet Voluntary
The hugely popular piece known as 'Jeremiah Clarke's Trumpet Voluntary' appeared originally as ' The Prince of Denmark's March' in Jeremiah Clarke's book ' Choice lessons for the Harpsichord and Spinet', which was published in 1700 ( Michael Kennedy; Oxford Dictionary of Music ). Sometimes, it has also been erroneously attributed to England's greatest composer Henry Purcell (1659 – 1695 ) and called 'Purcell's Trumpet Voluntary (Percy A. Scholes ; Oxford Companion to Music). This brilliant composition is often played at joyous occasions such as weddings and graduation ceremonies. Needless to say, it is a piece of processional music, par excellence. As its name suggests, it is probably best suited for solo trumpet and organ. However, it is often played for different combinations of instruments, with or without solo trumpet. It was composed by the English composer and organist Jeremiah Clarke.
Jeremiah Clarke was born in London in 1670. He was, like his elder contemporary Pachelbel, a musician of great repute during his time, and held important musical posts. He was the organist of London's St. Paul's Cathedral and the composer of the Theatre Royal. He died in London in 1707 due to self – inflicted gun – shot injuries, supposedly resulting from a failed love affair.
Albinoni's Adagio
The full title of the hugely famous piece known as 'Albinoni's Adagio' is 'Adagio for organ and strings in G minor'. However, due to its enormous popularity, the piece has been arranged for numerous combinations of instruments. It is also rendered as an organ solo. The composition, which epitomizes pathos, is structured as a chaconne with a brooding bass, which reminds of the inevitability and ever presence of death. Nonetheless, there is no trace of despondency in this ethereal music. On the contrary, its intense euphony transcends the feeling of death and calms the soul. The composition has been attributed to the Italian composer Tomaso Albinoni (1671 – 1750), who was a contemporary of Bach and Handel. However, the authorship of the work is shrouded in mystery. Michael Kennedy notes: "The popular Adagio for organ and strings in G minor owes very little to Albinoni, having been constructed from a MS fragment by the twentieth century Italian musicologist Remo Giazotto, whose copyright it is" (Michael Kennedy; Oxford Dictionary of Music).
Boccherini's Minuet
The classical super-hit known as 'Boccherini's Minuet' is quite different from 'Albinoni's Adagio'. It is a short piece of absolutely delightful music. It was composed by the Italian cellist and composer Luigi Boccherini. It belongs to his string quintet in E major, Op. 13, No. 5. However, due to its immense popularity, the minuet is performed on different combinations of instruments.
Boccherini was born in Lucca in 1743. He was a contemporary of Haydn and Mozart, and an elder contemporary of Beethoven. He was a prolific composer. His music shows considerable affinity to that of Haydn. He lived in Madrid for a considerable part of his life, and was attached to the royal court of Spain as a chamber composer. Boccherini died in poverty in Madrid in 1805.
Like numerous other souls, I have found immense joy by listening to popular classical pieces like Pachelbel's Canon in D, Jeremiah Clarke's Trumpet Voluntary, Albinoni's Adagio and Boccherini's Minuet. They have often helped me to unwind and get over the stresses of daily life. Intriguingly, such music has also made me wonder how our world would have been if the likes of Bach, Handel, Haydn, Mozart, Beethoven, and Schubert had never lived. Surely, the world would have been immeasurably poorer without them. However, in all probability, we would have still had Pachelbel's Canon in D, Jeremiah Clarke's Trumpet Voluntary, Albinoni's Adagio, and Boccherini's Minuet, to cheer us up and uplift our spirits.
The Tax Payer and the Tough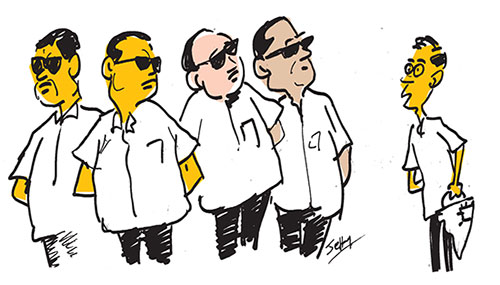 By Lynn Ockersz
The tax owed by him to Caesar,
Leaves our retiree aghast…
How is he to foot this bill,
With the few rupees,
He has scraped together over the months,
In a shrinking savings account,
While the fires in his crumbling hearth,
Come to a sputtering halt?
But in the suave villa next door,
Stands a hulk in shiny black and white,
Over a Member of the August House,
Keeping an eagle eye,
Lest the Rep of great renown,
Be besieged by petitioners,
Crying out for respite,
From worries in a hand-to-mouth life,
But this thought our retiree horrifies:
Aren't his hard-earned rupees,
Merely fattening Caesar and his cohorts?