'We wouldn't have spent 30 years of our lives fighting a war if we had right leaders and intellectuals'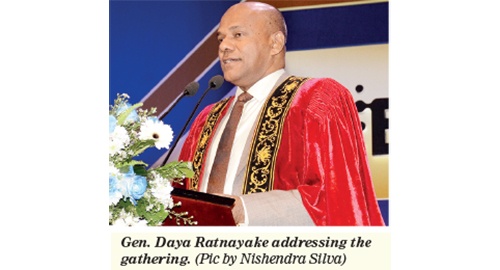 'Then the war would never have even started'
– Ex Army Commander Gen. Daya Ratnayake
Former Army Commander and incumbent Chairman of the Sri Lanka Ports Authority, General Daya Ratnayake, said that, in his experience, it is easy to get an education, it is easy to be educated, but what's hard is to become a person, a human being with the capacity to work hard, to innovate, to choose right over wrong regardless of the consequences, to do the right thing, to do something simply because it has to be done and no one else is willing to take it on.
Speaking as the chief guest at the Pearson BTEC Convocation 2020 of the Esoft Metro Campus at the BMICH, he told the students: "You are educated. You will remain educated until the day you die. You will have that label and you deserve it. The question I put to you is this: are you satisfied with just that label or do you want to become someone special, someone exceptional, someone about whom others will speak of long after you are gone? Do you want to become a legend? If so, let this moment mark a beginning".
Continuing, General Ratnayake said: "I see you, young men and women, about to close one chapter in your lives and ready to start a new one. In every single one of you, in your eyes, there's joy and there's hope. The future holds promise. Tomorrow will be better. Success will be yours. And let there be no doubt in your minds — that is exactly what I wish for each and every one of you. I want all of you to succeed because your success and the success of all students like you could add up to benefit the country of our birth, the nation we love and the people, our fellow citizens, among whom we grew up and must live.
"I want you to succeed and I will tell you why. I have been a soldier and not an academic. I spent 35 years in the Army and I was engaged in combat in 30 of those 35 years. I, like my fellow officers and every single member of the security forces, was ready to lay down my life for my country, for our people", the former army chief stressed, while adding, "believe me, ready to die though we all were, there were times when I asked myself a simple question: 'why did it come to this?' I asked myself 'what is it that forced me to spend 30 years of my life in uniform, carrying weapons, fighting a war?".
Gen. Ratnayake added: "I am a Buddhist and Buddhism taught me the doctrine of cause and effect theory, Patichchasamupada. So when I was confronted by a question, I investigated. And my investigation revealed to me that not just the war but almost every major issue that we grapple with are effects of something else, some underlying cause which we have not confronted and resolved. Just the other day, some 60,000 graduates were given jobs in the state sector. A significant number of them, I found out, had been waiting for years for the various governments in power to offer them employment. During all those years, didn't they look for jobs elsewhere? Didn't they take the trouble to make a CV? And if they had a CV, didn't they try to improve it by engaging in something, even voluntary work? If not, why not?
Most of them are beneficiaries of free education. It's not only that. Most of them were born in government hospitals, when they were sick, they went to see doctors and got medicine from government hospitals. Not only did they enjoy free education until their A/ Levels, they benefited from free education in the universities as well. They got Mahapola Scholarship or bursaries. Who paid for all this? The people. And after all this, they want to sit at home until someone offers them a job!, he observed.
"It pains me to know this reality. It pains me that we have become a nation and a citizenry that has lost all sense of dignity and self-respect. It pained me. because, I remembered how hard I strove to become who I was. I did not become an Army officer, a General and the Army Commander by doing nothing. I wanted to join the Army when I was very young. It was a dream. And I worked hard to make it a reality", Gen. Ratnayake further said.
He continued: "I found out what qualifications, skills, character and attitudes were necessary to become an Officer Cadet. I needed to be fit, I needed to be strong. So I took up sports. I need to have basic academic qualifications, so I studied hard. I needed to have a particular kind of personality, so I cultivated it. I would have to fight, so I learned how to fight. By the time I was a senior student in my school, I was a leader. I was a problem-solver. Whenever there was a problem, whenever there was injustice, I stepped in. After a while people came to me, asking me to resolve their problems.
"And when I joined the Army I had to learn new skills. I had to be a hundred times more fit. I had to work harder that I ever had in my life. I did all that. Dear students, you are young. You are excited about going out into the wide world. Out there, there is no one who will take care of you as though you were a baby. You can blame the government, you can blame society, you can blame the international political order, but at some level, you will have to stop complaining about things out of your control, look within yourself and fix the problems that you have the power to fix.
"Sadly, we have become a nation of complainers. We like to point fingers at others. We blame someone else for our misery. We don't stop and ask ourselves if there's something lacking in us. We don't admit that we could be flawed/wrong. We have had hundreds of thousands of young people graduating from our universities. They are all educated. I am convinced that each and everyone of you can become extraordinary citizens, extraordinary human beings. I am convinced that you can leave behind a legacy which will make people speak your names with awe and respect. You can become legends.
"So far you've gone through the paces. You've done the work, passed exams and today you leave with a certificate. Ask yourself if your time here has been exceptional. Did you set yourself extraordinary targets? If you didn't know much English when you entered, could you say today that you speak and write fluently and beyond what you yourself, your parents, fellow students and lecturers expected?
"My father was a farmer. When I was interviewed for the Army I was asked what my father did. I didn't say he was a landed proprietor. I said 'farmer'. I am proud of my father. I am proud that he was a farmer. I am proud that he was not a burden to anyone. He didn't beg anyone for a job. He didn't ask for handouts. He didn't take out his frustrations by ragging someone. He worked hard. He wanted his children to get the kind of education he never had. He wanted us to be useful citizens. He wanted us to have strong values. He wanted us to be the best we can be and try to be even better.
Don't settle for an ordinary future. Don't settle for a job, a salary, marriage, home and children. Aim higher. And always remember that there are no shortcuts. There's no substitute for hard work. Our nation needs you to be exceptional human beings. If all of you do in fact become exceptional human beings, then people like me will not have to spend 30 years of our lives fighting a war that would never have even started had we had the right leaders, right intellectuals and exceptional citizens.
"Remember, that tomorrow doesn't belong to you. TODAY belongs to you. Be exceptional. Lead amazing lives. Conduct yourself with integrity, self respect, right characters and attitudes. You will no doubt end up as legends".
The pinnacle Pearson BTEC in Business Management 'Most Outstanding Performance' and 'High Achiever 2019/20' awards at the Convocation were clinched by Ahinsa Udayani Perera, the winner of The Cambridge World Prize for Business Studies in 2016.
Dr. Dayan Rajapakse, Group Managing Director, ESOFT Group of Companies, Nishan Sembacuttiaratchy, Chief Executive Officer, ESOFT Metro Campus, Mrs. Premila Paulraj, Regional Director – Asia – Pearson Education and Suriya Bibile, Territory Manager – Sri Lanka & Maldives, Pearson Education were also present.
---
AG not bound by its recommendations, yet to receive report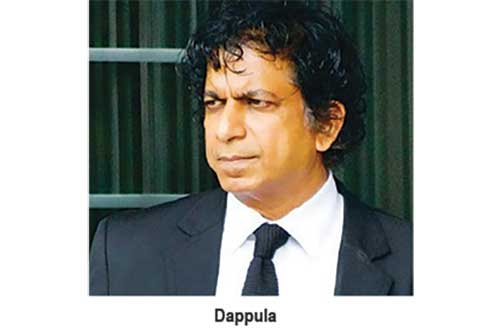 PCoI on Easter Sunday attacks:
By Shamindra Ferdinando
Attorney General Dappula de Livera, PC is not bound by recommendations made by the Presidential Commission of Inquiry (P CoI) into the 2019 Easter Sunday carnage, or presidential directives in that regard, according to authoritative sources.
They said that the AG couldn't under any circumstances initiate legal proceedings until he had received the full PCoI report.
President Gotabaya Rajapaksa received the PCoI report on Feb 1. The President's Office delivered a set of PCoI reports to Speaker Mahinda Yapa Abeywardena on Feb 23, a day after the report was presented to the cabinet of ministers. The Island raised the matter with relevant authorities in the wake of a section of the media reporting the PCoI recommending punitive measures against former President Maithripala Sirisena, Defence Secretary Hemasiri Fernando, IGP Pujitha Jayasundera, Chief of State Intelligence Senior DIG Nilantha Jayawardena, Chief of National Intelligence retired DIG Sisira Mendis and All Ceylon Makkal Congress (ACMC) leader and Samagi Jana Balavegaya MP Rishad Bathiudeen et al over the Easter Sunday carnage.
Sources pointed out that due to the inordinate delay in sharing the PCoI report with the AG, the department hadn't been able to take preliminary measures required to initiate the proceedings. Sources said that a team of officers would take at least six weeks or more to examine the report before tangible measures could be taken.
With the AG scheduled to retire on May 24, 2021, even if the AG Department received the P CoI it would be quite a tough task to initiate proceedings ahead of retirement, sources said. However, in terms of the 20th Amendment to the Constitution enacted in last October, both the AG and the IGP could receive extensions beyond 60 at the President's discretion.
Dappula de Livera received an Acting appointment as the AG a week after the Easter Sunday carnage whereas his predecessor Jayantha Jayasuriya, PC, was elevated to Chief Justice.
Responding to another query, sources said that the Attorney General two weeks ago requested Secretary to the President for a copy of the P CoI. However, the AG was yet to receive one, sources said. In spite of the AG not receiving a P CoI copy, the AG had instructed the IGP to obtain a copy of the report when he requested the police to complete investigations into the Easter Sunday carnage. The AG issued specific instructions after having examined police files pertaining to the investigations.
The IGP, too, hadn't received a copy so far though some sections of the report were in the public domain.
Agriculture Minister Mahindananda Aluthgamage displayed at a live political programme on Derana a copy of the P CoI report he received at the cabinet meeting earlier in the day.
Sources said that the Attorney General's Department couldn't decide on a course of action in respect of the Easter carnage on the basis of a section of the report. In terms of the Commission of Inquiry Act (Section 24), the AG enjoyed significant powers/authority in respect of investigations; sources said adding that the Department urgently required both the P CoI report and police investigations report. The Attorney General's Department has raised the delay in receiving a P CoI report amidst the Catholic Church attacking the government over the same issue.
Sources said that ministerial committee appointed to study the P CoI report couldn't decide on how to proceed with the recommendations and the matter was entirely in the hands of the AG. Sources pointed out that the delay on the part of the government to release the report had received the attention of sections of the international media, including the New York Times. Public Security Minister retired Rear Admiral Sarath Weerasekera having met Malcolm Cardinal Ranjith at the Bishop's House on Dec 8, 2020 said that the AG would get a copy of the P CoI report once the President received it. Minister Weerasekera said that the CID had handed over the relevant files after having completed investigations into eight blasts. Referring to the Parliamentary Select Committee (PSC) report on the Easter Sunday carnage, the former Navy Chief of Staff said that all such documents would have to be brought to one place and considered before initiating legal proceedings. Acknowledging that there could be delays, lawmaker Weerasekera said that on the instructions of the Attorney General a 12-member team of lawyers was working on the case. The minister vowed to expose the mastermind behind the Easter Sunday attacks. Investigations continued while some of those wanted were overseas, the minister said.
The minister acknowledged that the Attorney General couldn't proceed without the P CoI report. Minister Weerasekera reiterated that once the President received the P CoI report, it would be sent to the Attorney General. The minister said that there were documents two to three feet high that needed scrutiny. The minister assured comprehensive investigation. The minister said that investigations pertaining to eight blasts had been completed and the reports handed over to the AG. However, the Attorney General had found shortcomings in those investigations.
JVP picks holes in PCoI report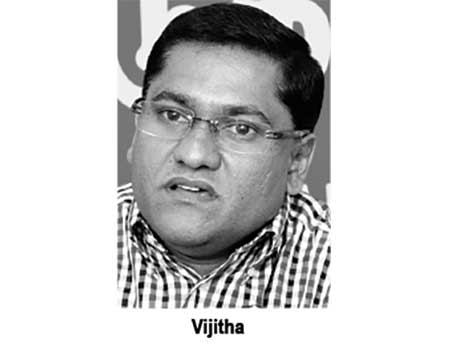 By Saman Indrajith
The Presidential Commission of Inquiry on the Easter Sunday bombings had failed to identify the mastermind of , the JVP said yesterday.
Addressing the media at the party headquarters in Pelawatte, JVP Propaganda Secretary MP Vijitha Herath said that the PCoI report had levelled accusations against former President Maithripala Sirisena, former IGP and head of intelligence for their dereliction of duty, shirking of responsibilities and not taking action to prevent the attacks and negligence. There were reference to the causes of the terror attacks and actions to be taken to avoid such attacks and the influence of extremist organisations. "However, there is no mention of the mastermind of the attacks, the handlers of the attackers and those whose interests the carnage served. It is also not mentioned whether there has been any foreign or local organisation behind those attacks. As per the PCoI report the attack took place as a result of culmination of extremism.
"According to the PCoI the extremist activities were a result of the prevailing political situation then. The entire nation was waiting to see who was responsible and who masterminded those attacks. The PCoI has failed to identify the true culprits responsible for the terror attacks. The report says that the leader of the suicide cadres killed himself in the attacks and it was a puzzle. That means those who are actually responsible for the attacks are still at large. The report does not provide exact details of the sources of the attacks. The PCoI had sittings for one year and five months. It summoned various persons and got their statements but it has failed to shed any light on the terror attacks. Everybody knows that the top leaders of the government and heads of security and intelligence establishments failed in their duties. Ranil Wickremesinghe was the second in command and he too is bound by the responsibility but the PCoI report fails to identify him as one of the persons against whom legal action should be instituted. The PCoI has treated Wickremesinghe and former President Maithripala Sirisena differently. We are not telling that this report is a total failure but we cannot accept this as a complete report. The PCoI handed over its report to the President on Feb 1. After 23 days it was sent to Parliament. Now, a copy of the report is there in the parliamentary library for the perusal of MPs."
Herath said that the PCoI did not have powers to take punitive action. "It only has powers to name those responsible and recommend action to be taken against those named.
TNA MP faults govt. for delay in answering questions, gets under Johnston's skin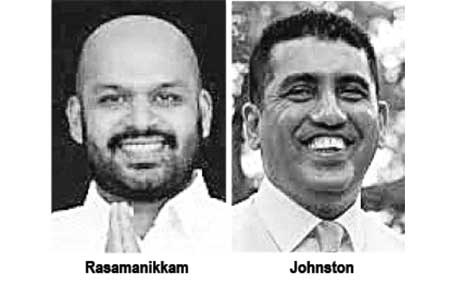 By Saman Indrajith
It did not matter whether the MPs were wearing pressed clothes or had travelled long distances when their questions were answered, Chief Government Whip Johnston Fernando told Parliament yesterday.
The Minister said so in response to a complaint by Batticaloa District TNA MP Shanikyan Rasamanikkam, who expressed his dismay for government taking time to answer a question raised by him.
MP Rasamanikkam has raised a question whether the Minister of Health is aware that the Dikkodai ospital, located in the Batticaloa district is not used for public purposes and the patients who visit the hospital for receiving services, face inconveniences, owing to that. On behalf of the Minister of Health, the Chief Government Whip and Minister asked for additional two weeks time.
MP Rasamanikkam: I come to parliament from Batticaloa, which is 422 km away. To attend Parliament we take great care including pressing our clothes. After taking so much trouble to come there braving the pandemic threat we do not get answers. There is a Health Minister and Acting Health Minister and neither of them is here. I saw Minister Dr Sudarshini Fernandopulle in the House this morning. She too has gone out. I travel more than 800 km. We could attend to many other problems. It is because the government does not give answers we are conducting protest marches, but when we do so we are hauled up before courts.
Chief Government Whip Minister Johnston Fernando: Every MP comes here wearing pressed clothes. But that has nothing to do with questions and answers here. I have been requested by the subject minister to ask for two weeks' time. The MPs have a right to ask questions and in the same way the ministers have the right to ask for time. On the other hand, whether you cover 400 km to reach parliament does not matter. The majority of MPs travel 200 to 250 kilometers to come to Parliament. It is for that purpose they contest elections and get elected. Once elected the distance is not an issue you have to come to Parliament. The government has answered all your questions. This is the first time the Minister has asked for additional time. It is unfair for you to level charges. A more responsible conduct is expected of you as an upcoming political leader.