CCC, Negombo CC record wins as domestic cricket resumes in Sri Lanka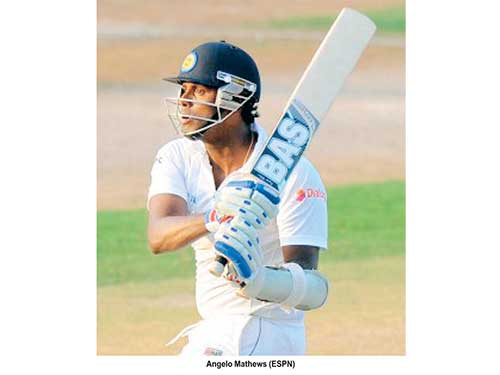 The Sri Lanka Cricket (SLC) Premier League Tier A tournament 2019/20 resumed on the 10th of August after a hiatus of almost five months due to the Covid-19 pandemic.
The tournament which was postponed at the end of the group stage in March 2020, saw the top 8 teams progressing to the super 8s while the other six teams were left to battle it out in the Plate Championship.
The current table toppers of the Super 8s (CCC) and Plate Championship (Negombo CC) recorded the only two wins of the 7 matches that concluded during the week respectively, with some of the top national players turning out for their respective clubs with no national cricket duties.
Super 8s
Angelo Mathews made a grand return to domestic cricket with an unbeaten 173* which was the highest score of the round, but Colts CC had to be satisfied with a first-innings victory over Saracens SC. Santhush Gunathilake also hit a century for Colts, following on from a ton in his previous game before the break against Negombo CC.
Centuries from Upul Tharanga and Lahiru Udara secured first-innings points for NCC, before former Sri Lanka skipper Dinesh Chandimal lit up the game with a 2nd innings century for the soldiers as the match ended in a tame draw at the SSC ground in Colombo. Thulina Dilshan also made an unbeaten century in the Army 2nd Innings, but it was left arm seamer Dilesh Gunaratne who ended with 7 wickets in the match for NCC who stole the limelight on a familiar batting paradise at the SSC.
CCC's title defence was hardly threatened as Ragama CC succumbed to an innings and 125 runs defeat at the hands of the table toppers in their game that concluded in Katunayake. Kusal Mendis was the star with the bat for the winners top scoring with 139 before Malinda Pushpakumara went about his business to end with 8 wickets in the match. CCC are well ahead in the title race with NCC almost 18 points behind them in second place.
Kamindu Mendis' all-round efforts was the highlight of the drawn game between BRC and Chilaw Marians that concluded at the CCC grounds. Mendis hit an unbeaten 150* to go along with four wickets with the ball in BRC's 2nd innings. BRC managed to hang in for 80 overs to save the match, with Dilshan de Soysa playing out of his skin to remain unbeaten on 105*.
Brief Scores:
Colts CC vs Saracens SC
Colombo Colts Cricket Club – 408/6d (128.2) Anjelo Mathews 173*, Santhush Gunathilaka 100, Avishka Fernando 66, Sadeera Samarawickrama 41, Kasun Rajitha 3/85, Promod Maduwantha 2/72
Saracens Sports Club – 182 (81.2) Gamindu Kanishka 45, Saliya Saman 38, Navindu Vithanage 32, Milinda Siriwardana 27, Nisala Tharaka 3/34, Dilshan Madushanka 2/37, Prabath Jayasuriya 2/41 & F/O 106/3 (40) Navindu Vithanage 34*, Sithara Gimhan 27, Gamindu Kanishka 23, Akila Dananjaya 2/19
Army SC vs NCC
Army Cricket Club 269 – (84.1) Janith Silva 54, Asela Gunaratne 50, Himasha Liyanage 46, Mahesh Kumara 41, Dilesh Gunarathna 5/42, Chathuranga De Silva 3/90 & 255/3 (60) Dinesh Chandimal 129, Thulina Dilshan 116*, Dilesh Gunarathna 2/13
Nondescripts Cricket Club – 417/7d (88) Upul Tharanga 121, Lahiru Udara 105, Mahela Udawatte 77*, Chamika Karunarathna 30*, Angelo Perera 29, Sahan Arachchige 25, Seekkuge Prasanna 3/91
CCC vs Ragama CC
Colombo Cricket Club – 499/7d (117) Kusal Mendis 139, Minod Bhanuka 88, Wanindu Hasaranga 88, Ashan Priyanjan 58, Lahiru Madushanka 57*, Sonal Dinusha 29, Binura Fernando 4/72
Ragama Cricket Club – 132 (41.2) Janith Liyanage 43*, Roshen Silva 27, Malinda Pushpakumara 4/35, Lahiru Madushanka 2/16, Wanindu Hasaranga 2/36 & F/O 242 (58.3) Janith Liyanage 50*, Roshen Silva 41, Ishan Jayaratne 35, Binura Fernando 29, Nishan Madushka 29, Saminda Fernando 23, Malinda Pushpakumara 4/55, Ashan Priyanjan 2/64, Wanindu Hasaranga 2/66
Chilaw Marians CC vs BRC
Chilaw Marians Cricket Club – 195 (47.2) Oshada Fernando 42, Pulina Tharanga 40, Kasun Vidura 38, Thikshila De Silva 35, Bhanuka Rajapaksa 3/26, Hashen Ramanayake 3/43, Duvindu Tillakaratne 3/54 & 385/8d (89.2) Kamindu Mendis 150*, Kasun Vidura 87, Thikshila De Silva 41, Shehan Jayasuriya 35, Oshada Fernando 30, Bhanuka Rajapaksa 3/40, Duvindu Tillakaratne 2/71
Burgher Recreation Club – 87 (34.2) Deshan Dias 24, Asitha Fernando 4/42, Nimesh Vimukthi 3/06, Thikshila De Silva 3/13 & 231/8 (80) Dilshan De Soysa 105*, Deshan Dias 28, Shanuka Dulaj 25, Hashen Ramanayake 20, Kamindu Mendis 4/43, Pulina Tharanga 2/32, Thikshila De Silva 2/23
Plate Championship
Negombo CC came-from-behind to record a thrilling five wicket win over Lankan CC who secured a vital 32 run 1st innings lead earlier in the match. While young right arm off-spinner Lakshitha Rasanjana captured five wickets in the first innings for Negombo, it was veteran left arm tweaker Upul Indrasiri who did the damage in  the second innings with a match winning five wicket haul. Lankan CC skipper Chanaka Ruwansiri made 124 in his teams' 1st innings, but a 2nd innings collapse meant Lankan CC could not drive home the advantage. The win also put Negombo on top of the Plate Championship with Tamil Union not too far behind with two more rounds of cricket remaining.
Badureliya SC held on to a nervy draw, as they finished their 2nd innings on 120/9 in pursuit of 497 set by Moors SC, who managed to dominate most of the game. Fast bowler Kavishka Anjula was the star for Moors as he captured 11 wickets in the match at the Colts ground in Colombo.
SSC's torrid season continued as they were beaten by Tamil Union CAC on first-innings at the NCC ground, in Colombo. Sri Lanka seamer Suranga Lakmal's 1st innings four-wicket burst set the game up for Tamil Union, before Ranmith Jayasena top scored with 82 runs.
Lankan CC vs Negombo CC
Lankan Cricket Club – 270 (68.2) Chanaka Ruwansiri 124, Lahiru Dilshan 43, Dunith Wellalage 37, Lakshitha Rasanjana 5/85, Upul Indrasiri 3/79 & 111 (50.3) Risith Upamal 36, Chanaka Ruwansiri 30, Kasun Abeyrathne 20, Upul Indrasiri 5/34, Roshen Fernando 3/29
Negombo Cricket Club – 238 (69.2) Madawa Warnapura 64, Roscoe Thattil 63, Ashen Silva 53, Dunith Wellalage 3/66, Geeth Kumara 2/33, Chanaka Ruwansiri 2/45 & 147/5 (36.5) Roscoe Thattil 38* Madawa Warnapura 33*, Pasindu Lakshanka 29, Dilshan Munaweera 25, Dunith Wellalage 3/60
Moors SC vs Baduraliya SC
Moors Sports Club – 340 (100.2) Ayana Siriwardhana 83, Adeesha Thilanchana 53, Dinuka Dilshan 46, Kavishka Anjula 42, Ramesh Mendis 40, Nipun Karunanayake 27, Anuk Fernando 27, Lahiru Samarakoon 5/86, Dushan Hemantha 2/57, Buddika Sanjeewa 2/75 & 305/6d (69.1) Ramesh Mendis 61, Sachithra Serasinghe 60, Nipun Karunanayake 58, Mohammed Shamaaz 48, Pabasara Waduge 36, Adeesha Thilanchana 28*, Lahiru Samarakoon 2/33
Badureliya Cricket Club – 149 (45.5) Salinda Ushan 67, Dushan Hemantha 25, Dunith Jayatunga 22, Kavishka Anjula 5/39, Sachithra Serasinghe 3/12, Ramesh Mendis 2/37 & 120/9 (40) Dushan Hemantha 43, Salinda Ushan 23, Kavishka Anjula 6/35, Praveen Jayawickrama 3/43
SSC vs Tamil Union CAC
Sinhalese Sports Club – 254 (77.5) Sachithra Senanayake 81, Akash Senaratne 37, Sandun Weerakkody 35, Dasun Shanaka 35, Charith Asalanka 24, Dhammika Prasad 21, Suranga Lakmal 4/36, Isuru Udana 2/43, Pramod Madushan 2/53 & 271/5 (63) Charith Asalanka 94, Sandun Weerakkody 68, Sammu Ashan 37, Dasun Shanaka 30, Krishan Sanjula 20*, Maduka Liyanapathiranage 2/51
Tamil Union Cricket and Athletic Club – 349 (98)Ranmith Jayasena 82, Tharanga Paranavitana 71, Dhananjaya De Silva 53, Dhakshitha Fernando 49, Yohan Mendis 31, Maduka Liyanapathiranage 25, Jeffrey Vandersay 4/91, Sachithra Senanayake 3/63, Dhammika Prasad 2/37
---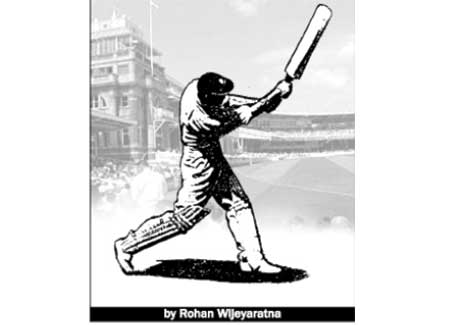 (This article by The Island's respected cricket columnist Rohan Wijeyaratne first appeared in these pages 16 years ago; on the 11th of June 2005. As World Cup winning former captain and current Prime Minister of Pakistan Imran Khan has just visited the island, we reproduce this article in today's edition)
In my youth – which is to say, quite a long time ago – I would often go to the YMCA canteen for a snack and a tea after whatever business that brought me to the Fort. Doing the same recently more for old times sake than anything else, I saw a familiar figure ahead of me heading in the same direction. Quickening my step and drawing abreast, I introduced myself to the gentleman concerned. He was none other than my old school English teacher, V. Thanabalasingham.
Not just a teacher, but an Institution
Those of you who may have passed through the portals of Ananda College during the 1960s and the early 70s and no doubt been well rounded in many ways, will admit to a man that when it came to the teaching of English, the name Thanabalasingham held no peer. In his prime, he was not just a brilliant teacher but an Institution. And volumes wouldn't suffice to do him justice – such was the impact he made on all whom he touched, be it with the brilliance of Thackeray, Dickens, Chaucer or the Direct Method English Course that served as our bread and butter in English education at the time.
Another, from a different mould
Another teacher from an entirely different mould was Upali Ratnayake, now the Executive Director of CIMA. At the time he was introduced to us at the 'A' level stage, he appeared to our free spirits a cut above the rest. He acquired this status by doing exactly the opposite of what he was expected to do, which was to teach us English as a preparatory step towards an easier passage through University. Upali Ratnayake actually taught us nothing. Yet we learnt a good deal off him, discussing almost everything other than the subject he was paid for! His most endearing virtue was that he never spoke to us from a great height. And in that process, he taught us one of the most lasting lessons in life.
Several decades later, I nearly fell off my chair to receive a phone call from him inviting me to the BMICH on the 28th of May where Imran Khan and Kumar Sangakkara were due to speak at the CIMA Global Leaders Summit. The topics for discussion were "Passion for Perfection" and "Ordinary people in extraordinary acts." The topics and the speakers seemed irresistible. And so I went.
What a speech!
I wasn't disappointed. Neither were hundreds of others present. And predictably, Imran stole the show. Blessed with a presence that would have put any Grecian god to second class status, this tall, elegant and immensely handsome man spoke with such brilliance, clarity and articulation, the end result was as gripping as it was inspiring. In his wake, those who followed appeared cumbersome and dreary, almost like how Kenny Mackay would appear after the brilliance of a vintage Sobers or a Dexter! Kumar Sangakkara having to make do with less time than was his rightful share went largely unheard, tending to speak more to his fellow panelists than his audience. He will learn. As a probable hot contender to the top post after Atapattu, there will be many more occasions where he will be required to speak in public.
"Ambition must be upgraded, never downgraded"
Imran was of the view that all humans were endowed with limitless potential. Their limits if any, were often self imposed. Those who achieved extraordinary heights were those who dared to go beyond their self imposed limits. They thought big, dreamed big and did not allow their limitations to get in the way of achieving their dreams. He drew parallels from his own experiences in cricket, his cancer hospital project and his involvement in national politics to establish the point.
The four secrets
Starting with cricket, and drawing parallels with other legends including Zaheer Abbas, Imran stressed the need for a clear vision, the hunger to succeed, the willingness to sacrifice and self belief as being the four secrets to achieve one's vision. Self belief was a factor which Abbas, despite all his God given gifts, had in very short supply. Imran, on the other hand, was full of it (sometimes foolishly!), because he never thought he ever could lose a game each time he stepped on to a cricket field. He gave many examples of it, including the victories against the might of the 'invincible' West Indians in 1986 against all odds. And that, despite having requested and got, 'neutral' umpires in a home series in Pakistan! He just wanted to make sure that when they won, there would be none to say that the umpires had anything to do with it!
Drawing from examples of his own life, Imran said that in all one's life, one would hear others say why something cannot be done. That if accepted, would be the start of everyone's downward spiral. Ambition he said, must be upgraded, never downgraded. And the more you pit your mind against the winds that resist you from reaching your ambition, the stronger your mind will become. Therefore, ambition must take precedence over everything. And towards achieving that, one should be willing to sacrifice anything. "Compromise" said Imran "for your vision, but never ever on your vision." Great words!
Why the 3rd world is the 3rd world!
Relating what made him take to politics, Imran said that the problem with the third world was that the ruling elite would put itself above the law and deprive the ordinary folk of any justice. Hence his political movement was primarily meant to establish the rule of law in his country, where the weak and the strong were equal in the eyes of the law. "No society in the history of mankind has ever progressed without the rule of the law. The reason why the third world remained the third world was because it had very poor rule of the law. The elitist types did whatever they wished and got away with it, while the common man and the small and medium industrialist were all deprived of justice." None could have spoken a truer word!
The ways of the mafia
Imran went on to say that when fighting for the rule of Law, one would be pitted against entrenched vested interests; the most powerful elite in the country. These were those who could buy justice. In Imran's case, these were men who were also his good friends. Yet he preferred to take on the mantle of a social pariah instead, preferring to stand steadfast to his vision. The mafia usually reacts in such situations in either of two ways. They would either eliminate you or make you join the system. Just five months after his party was formed, he was offered 30 seats in Parliament out of 270. Imran refused, because he realized he had no chance of winning against entrenched political families that controlled his country. He knew the moment he joined them, he would need to compromise with his vision. So he refused, and got wiped out at the elections.
Refusing the Prime Ministership of Pakistan
When General Musharaff took over with Pakistan's fourth military dictatorship in its brief history, he made all the right noises such as ridding the country of "sham" democracy and so on. No sooner Musharaff formed his own party, Imran was yet again invited, this time to become the Prime Minister of Pakistan. "But when I discovered that joining his coalition meant joining the biggest crooks in the country," he had no difficulty in refusing. He was chided for his decision by many who argued that he could have joined and then fixed things up. But Imran said the decision was easy to make, as his vision was very clear. And it was one's vision that decided when to compromise and when not to.
Imran's vision
Imran's vision was an independent and credible judicial system in Pakistan. So he asked himself the question, could General Musharaff afford an independent judiciary? The answer to him was obvious. If such a judicial system prevailed, most of the powerful men in his country would be tried for treason under article six of the country's constitution. The sentence for treason was death. And he was therefore convinced that neither Musharaff, nor those around him could afford an independent and credible judicial system. And so, with his firm "No" Imran watched his party being destroyed yet again, to one seat, in parliament. This time it was by General Musharaff himself.
(To be continued tomorrow)
Spinners give India early advantage in third Test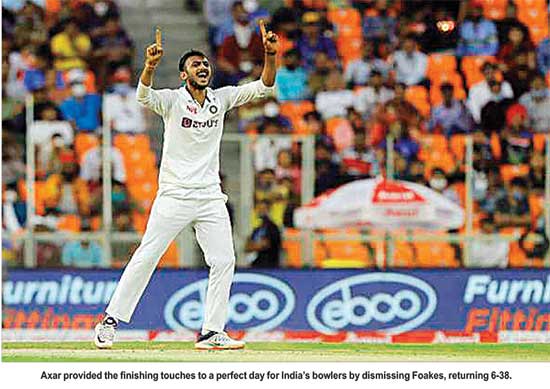 Indian spinners shot England out for just 112 inside two sessions with Ravichandran Ashwin and Axar Patel sharing the spoils after pacer Ishant Sharma opened the floodgates in his milestone 100th match on the opening day of the day-night third Test in Ahmedabad yesterday.
England were all out for 112 in 48.4 overs in the second session on a spin-friendly Motera pitch with Patel (21.4-6-38-6) grabbing his second five-for in his second Test while Ashwin (16-6-26-3) took three.
Openers Rohit Sharma (5) and Shubman Gill (0 ) negotiated five overs to take India to five for no loss at the dinner break.
Gill, however, survived after TV umpire ruled him not out in the third over after England claimed for a catch.
Ishant, only the second Indian fast bowler after Kapil Dev to play in 100 Tests, fittingly took India's first wicket in the third over as he dismissed opener Dominic Sibley for nought.
Thereafter, it was all an Ashwin and Patel show as the duo bamboozled the England batsmen to complete the submission, except for the other opener Zak Crawley, who hit an eminently delectable half-century. Six English wickets fell in the second session.
England did not have any substantial partnership with the 47-run stand for the third wicket being the highest. They lost their last seven wickets for just 38 runs.
Crawley's brilliance was, however, neutralised by the Indian spinners as England were left reeling at 81 for four going into tea after an exciting opening session in the pink ball Test.
Two wickets fell in as many overs after the resumption of the second session, with Ashwin and Patel taking one each, to reduce England to 81 for 6.
Ashwin sent Ollie Pope's (1) off-stump cart-wheeling with a beauty of a delivery, bowling round the wicket, before Patel trapped Ben Stokes (6) LBW in the next over with a ball that spun in.
Jofra Archer (11) did a tad better as he hit a four in the second ball he faced and another boundary off Ashwin. But, Patel had him soon, cleaning up his off-stump to send England innings into a mess.
England's rapid slide continued with Jack Leach edging one to the gully where Cheteshwar Pujara took a low catch off Ashwin, though the TV umpire took time to confirm the decision.
Crawley's effort was the only silver lining for England. Having missed the first two Tests due to a freak wrist injury, the stylish right-hander's driving was elegance personified as he hit ten boundaries during his 84-ball 53.
Top players secure third round places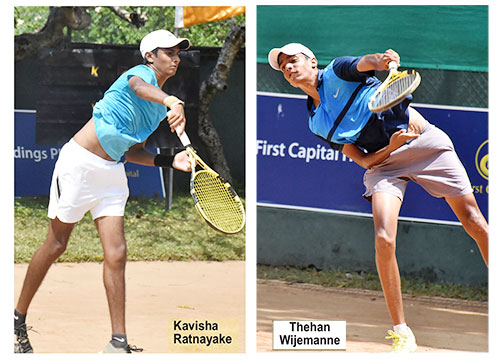 SSC Open Ranking Tennis
Thehan Wijemanne, Kavisha Ratnayake, Vibuda Wijebandara, Savith Weerasinghe, Kiran Viravanathan, Archana Lokuge advanced to the men's singles third round at the SSC Open Ranking tennis tournament on Tuesday.
Some of the leading players fighting to improve on their impressive performances produced at the Tennis Nationals and the Colombo Championships during recent weeks knocked out their opponents easily to secure third round places.