What Ranil can learn from cricket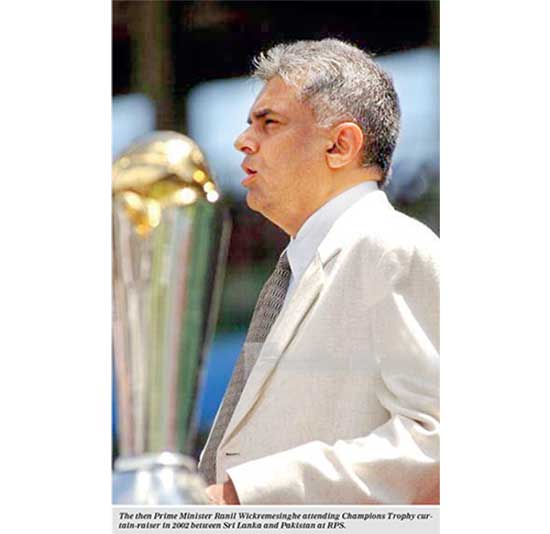 by Rex Clementine
If your grandchildren ask how bad 2020 was tell them that even Ranil Wickremesinghe couldn't survive as the leader of UNP!
Ranil's tenure as UNP's leader has been noteworthy. He assumed duties as the party leader in 1994. The Sri Lankan cricket captain at that point was Arjuna Ranatunga. Since then, Sri Lanka has had 11 different Test captains; England has won a World Cup; International Cricket Council's founder members have lost their veto powers and India has taken over as world's leaders of cricket. Even the Catholic Church has seen three different Popes during the last 25 year – John Paul II, Benedict XVI and Francis I. But Ranil remains UNP's leader!
Sir Ian Botham is the greatest cricketer produced by England in the last 50 years. So is Ranil. Not many are fit to hold a candle to Ranil when it comes to his oratory skills or his knowledge of the Constitution. But everyone is not a leader. Botham had a brief stint as England captain. When the Ashes was slipping away from England under his charge in 1981, he sensed what was in store for him and stepped down before being axed. Mike Brearley, Botham's successor was hardly a match winner; he never scored a Test match hundred and ended up with an average of 22. But Brearley, who had degrees from Cambridge for Classics and Moral Science, was an outstanding leader. As Rodney Hogg, the Australian fast bowler put it, "Brearley had a degree in people."
Ranil failed to see the signs. The writing was on the wall for him in the lead-up to the recent election. Instead of handing over the party reins to someone else he decided to stay put and the voters taught him an unforgettable lesson. Ranil did not have Botham's humility to play under someone who could never match his abilities or skills.
Having stepped down from captaincy, Botham extended his fullest support to the new skipper. His impact in the 1981 series was such that it was called 'Botham's Ashes.'
Not Ranil, though; he dragged his feet on naming Sajith as UNP's presidential candidate, and after naming him came up with some ill-timed moves that literally derailed his understudy's campaign.
Ian Chappell is one of the finest captains the game has ever seen. He didn't hesitate to take on the administration, demanding that his players be paid well and that he be part of the process where decisions were made. Chappell was so straight forward that he didn't even spare Sir Don Bradman. Chappell was a true leader.
Ranil unfortunately while being in power didn't fight for his rights or for those of his party members. He has absolved himself of any responsibility for the Easter Sunday attacks, claiming that he had not been invited to Security Council Meetings. Ranil shouldn't have taken it lying down when he was kept out of those important meetings. Then after the attack, his lack of remorse during television interviews gave the impression of a man who did not feel for his people.
Chappell's grandfather Vic Richardson also captained Australia. The best advice he gave young Chappell was 'if you ever get a chance to captain Australia, don't captain like a Victorian.'
Ranil too had close relatives at the helm of politics. They should have told him what 'disce aut discede' really meant.
Chappell even dropped his best mate Doug Walters from The Oval Test of 1972. It was the first time ever a New South Walesman did not feature in an Australian Test side. Dick Tucker, a reputed Australian journalist told Chappell that he was surprised at what the latter had done.
Chappell said something interesting: 'Dick, If you think that I am going to pick Doug Walters because he is a mate of mine when that is not in the best interest of the team, you don't know me. I am going to pick a team that is going to win a game. I am not going to pick up all my mates and leave out someone who I am not fond of. Ridiculous."
Ranil has a lot to learn from Chappell. One of the first things he did after being in the opposition for more than a decade was to appoint his mate Arjun Mahendran as Governor of Central Bank. The rest, as they, say is history. After all, here's a man who said, when President Mahinda Rajapaksa appointed Ajith Nivard Cabraal as the Governor of Central Bank, that it was like 'picking a donkey for a Derby.'
Not just Botham and Brearley, Ranil has a lot to learn from even our own T.M. Dilshan. Not the brightest captain that we have had, Dilshan became the first Sri Lankan skipper to win a Test match in South Africa. But he lost the series. The following day he announced that he was stepping down from captaincy.
Ranil should have stepped down the day after his party was reduced to just one seat in Parliament. He is still hanging on, hoping against hope.
---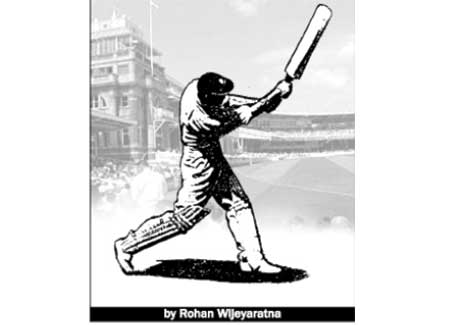 (This article by The Island's respected cricket columnist Rohan Wijeyaratne first appeared in these pages 16 years ago; on the 11th of June 2005. As World Cup winning former captain and current Prime Minister of Pakistan Imran Khan has just visited the island, we reproduce this article in today's edition)
In my youth – which is to say, quite a long time ago – I would often go to the YMCA canteen for a snack and a tea after whatever business that brought me to the Fort. Doing the same recently more for old times sake than anything else, I saw a familiar figure ahead of me heading in the same direction. Quickening my step and drawing abreast, I introduced myself to the gentleman concerned. He was none other than my old school English teacher, V. Thanabalasingham.
Not just a teacher, but an Institution
Those of you who may have passed through the portals of Ananda College during the 1960s and the early 70s and no doubt been well rounded in many ways, will admit to a man that when it came to the teaching of English, the name Thanabalasingham held no peer. In his prime, he was not just a brilliant teacher but an Institution. And volumes wouldn't suffice to do him justice – such was the impact he made on all whom he touched, be it with the brilliance of Thackeray, Dickens, Chaucer or the Direct Method English Course that served as our bread and butter in English education at the time.
Another, from a different mould
Another teacher from an entirely different mould was Upali Ratnayake, now the Executive Director of CIMA. At the time he was introduced to us at the 'A' level stage, he appeared to our free spirits a cut above the rest. He acquired this status by doing exactly the opposite of what he was expected to do, which was to teach us English as a preparatory step towards an easier passage through University. Upali Ratnayake actually taught us nothing. Yet we learnt a good deal off him, discussing almost everything other than the subject he was paid for! His most endearing virtue was that he never spoke to us from a great height. And in that process, he taught us one of the most lasting lessons in life.
Several decades later, I nearly fell off my chair to receive a phone call from him inviting me to the BMICH on the 28th of May where Imran Khan and Kumar Sangakkara were due to speak at the CIMA Global Leaders Summit. The topics for discussion were "Passion for Perfection" and "Ordinary people in extraordinary acts." The topics and the speakers seemed irresistible. And so I went.
What a speech!
I wasn't disappointed. Neither were hundreds of others present. And predictably, Imran stole the show. Blessed with a presence that would have put any Grecian god to second class status, this tall, elegant and immensely handsome man spoke with such brilliance, clarity and articulation, the end result was as gripping as it was inspiring. In his wake, those who followed appeared cumbersome and dreary, almost like how Kenny Mackay would appear after the brilliance of a vintage Sobers or a Dexter! Kumar Sangakkara having to make do with less time than was his rightful share went largely unheard, tending to speak more to his fellow panelists than his audience. He will learn. As a probable hot contender to the top post after Atapattu, there will be many more occasions where he will be required to speak in public.
"Ambition must be upgraded, never downgraded"
Imran was of the view that all humans were endowed with limitless potential. Their limits if any, were often self imposed. Those who achieved extraordinary heights were those who dared to go beyond their self imposed limits. They thought big, dreamed big and did not allow their limitations to get in the way of achieving their dreams. He drew parallels from his own experiences in cricket, his cancer hospital project and his involvement in national politics to establish the point.
The four secrets
Starting with cricket, and drawing parallels with other legends including Zaheer Abbas, Imran stressed the need for a clear vision, the hunger to succeed, the willingness to sacrifice and self belief as being the four secrets to achieve one's vision. Self belief was a factor which Abbas, despite all his God given gifts, had in very short supply. Imran, on the other hand, was full of it (sometimes foolishly!), because he never thought he ever could lose a game each time he stepped on to a cricket field. He gave many examples of it, including the victories against the might of the 'invincible' West Indians in 1986 against all odds. And that, despite having requested and got, 'neutral' umpires in a home series in Pakistan! He just wanted to make sure that when they won, there would be none to say that the umpires had anything to do with it!
Drawing from examples of his own life, Imran said that in all one's life, one would hear others say why something cannot be done. That if accepted, would be the start of everyone's downward spiral. Ambition he said, must be upgraded, never downgraded. And the more you pit your mind against the winds that resist you from reaching your ambition, the stronger your mind will become. Therefore, ambition must take precedence over everything. And towards achieving that, one should be willing to sacrifice anything. "Compromise" said Imran "for your vision, but never ever on your vision." Great words!
Why the 3rd world is the 3rd world!
Relating what made him take to politics, Imran said that the problem with the third world was that the ruling elite would put itself above the law and deprive the ordinary folk of any justice. Hence his political movement was primarily meant to establish the rule of law in his country, where the weak and the strong were equal in the eyes of the law. "No society in the history of mankind has ever progressed without the rule of the law. The reason why the third world remained the third world was because it had very poor rule of the law. The elitist types did whatever they wished and got away with it, while the common man and the small and medium industrialist were all deprived of justice." None could have spoken a truer word!
The ways of the mafia
Imran went on to say that when fighting for the rule of Law, one would be pitted against entrenched vested interests; the most powerful elite in the country. These were those who could buy justice. In Imran's case, these were men who were also his good friends. Yet he preferred to take on the mantle of a social pariah instead, preferring to stand steadfast to his vision. The mafia usually reacts in such situations in either of two ways. They would either eliminate you or make you join the system. Just five months after his party was formed, he was offered 30 seats in Parliament out of 270. Imran refused, because he realized he had no chance of winning against entrenched political families that controlled his country. He knew the moment he joined them, he would need to compromise with his vision. So he refused, and got wiped out at the elections.
Refusing the Prime Ministership of Pakistan
When General Musharaff took over with Pakistan's fourth military dictatorship in its brief history, he made all the right noises such as ridding the country of "sham" democracy and so on. No sooner Musharaff formed his own party, Imran was yet again invited, this time to become the Prime Minister of Pakistan. "But when I discovered that joining his coalition meant joining the biggest crooks in the country," he had no difficulty in refusing. He was chided for his decision by many who argued that he could have joined and then fixed things up. But Imran said the decision was easy to make, as his vision was very clear. And it was one's vision that decided when to compromise and when not to.
Imran's vision
Imran's vision was an independent and credible judicial system in Pakistan. So he asked himself the question, could General Musharaff afford an independent judiciary? The answer to him was obvious. If such a judicial system prevailed, most of the powerful men in his country would be tried for treason under article six of the country's constitution. The sentence for treason was death. And he was therefore convinced that neither Musharaff, nor those around him could afford an independent and credible judicial system. And so, with his firm "No" Imran watched his party being destroyed yet again, to one seat, in parliament. This time it was by General Musharaff himself.
(To be continued tomorrow)
Spinners give India early advantage in third Test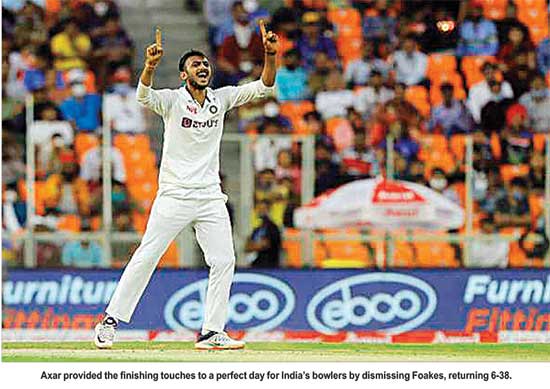 Indian spinners shot England out for just 112 inside two sessions with Ravichandran Ashwin and Axar Patel sharing the spoils after pacer Ishant Sharma opened the floodgates in his milestone 100th match on the opening day of the day-night third Test in Ahmedabad yesterday.
England were all out for 112 in 48.4 overs in the second session on a spin-friendly Motera pitch with Patel (21.4-6-38-6) grabbing his second five-for in his second Test while Ashwin (16-6-26-3) took three.
Openers Rohit Sharma (5) and Shubman Gill (0 ) negotiated five overs to take India to five for no loss at the dinner break.
Gill, however, survived after TV umpire ruled him not out in the third over after England claimed for a catch.
Ishant, only the second Indian fast bowler after Kapil Dev to play in 100 Tests, fittingly took India's first wicket in the third over as he dismissed opener Dominic Sibley for nought.
Thereafter, it was all an Ashwin and Patel show as the duo bamboozled the England batsmen to complete the submission, except for the other opener Zak Crawley, who hit an eminently delectable half-century. Six English wickets fell in the second session.
England did not have any substantial partnership with the 47-run stand for the third wicket being the highest. They lost their last seven wickets for just 38 runs.
Crawley's brilliance was, however, neutralised by the Indian spinners as England were left reeling at 81 for four going into tea after an exciting opening session in the pink ball Test.
Two wickets fell in as many overs after the resumption of the second session, with Ashwin and Patel taking one each, to reduce England to 81 for 6.
Ashwin sent Ollie Pope's (1) off-stump cart-wheeling with a beauty of a delivery, bowling round the wicket, before Patel trapped Ben Stokes (6) LBW in the next over with a ball that spun in.
Jofra Archer (11) did a tad better as he hit a four in the second ball he faced and another boundary off Ashwin. But, Patel had him soon, cleaning up his off-stump to send England innings into a mess.
England's rapid slide continued with Jack Leach edging one to the gully where Cheteshwar Pujara took a low catch off Ashwin, though the TV umpire took time to confirm the decision.
Crawley's effort was the only silver lining for England. Having missed the first two Tests due to a freak wrist injury, the stylish right-hander's driving was elegance personified as he hit ten boundaries during his 84-ball 53.
Top players secure third round places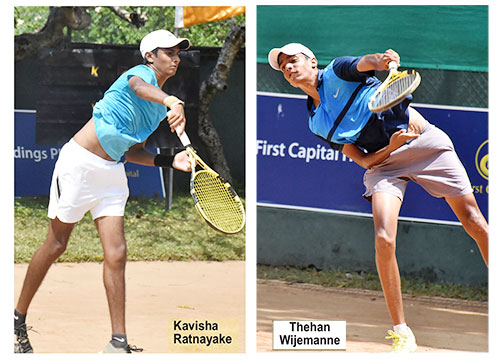 SSC Open Ranking Tennis
Thehan Wijemanne, Kavisha Ratnayake, Vibuda Wijebandara, Savith Weerasinghe, Kiran Viravanathan, Archana Lokuge advanced to the men's singles third round at the SSC Open Ranking tennis tournament on Tuesday.
Some of the leading players fighting to improve on their impressive performances produced at the Tennis Nationals and the Colombo Championships during recent weeks knocked out their opponents easily to secure third round places.